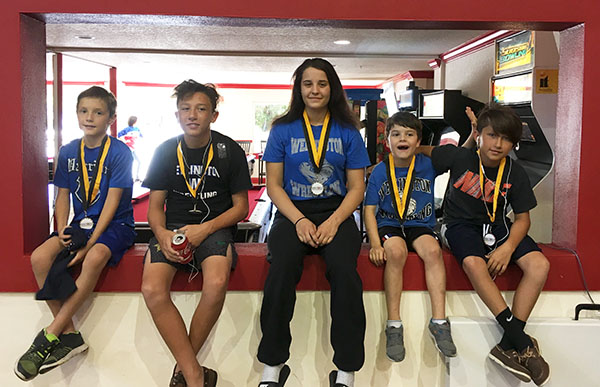 The Wellington Wrestling Club competed at the Iconic Southeastern Regional at the Cocoa Expo Center last weekend and finished with six place winners.
Leading the way were champions Hosanna Kropp (high school girls freestyle, 131 pounds), Tyler Gray (elementary, 65 pounds) and James Marvel (middle school, 105 pounds).
Tucker Gray (8U, 55 pounds) placed second, while Sam Marvel (elementary, 75 pounds) and Ryan King (middle school, 100 pounds) placed fourth.
The Wellington Wrestling Club will begin its summer session on Tuesday, June 6 with practices being held on Tuesday and Thursday evenings at the Village Park in Wellington.
The club will be competing next at the Going for the Gold Tournament being held at Forest Hill High School on Saturday, June 3.
ABOVE: (L-R) Tyler Gray, James Marvel, Hosanna Kropp, Tucker Gray and Sam Marvel.