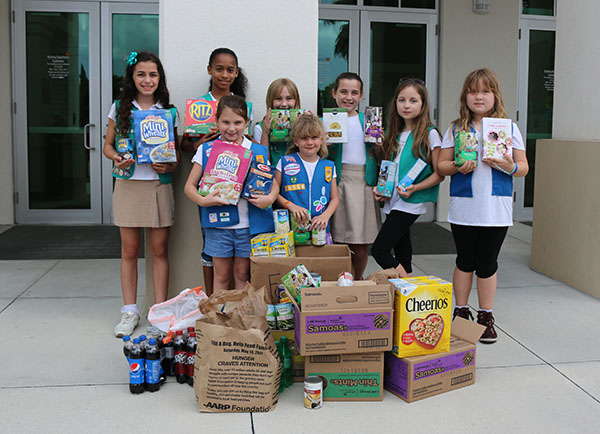 Girl Scouts from Troop 20556 presented a donation of food, drinks and Girl Scout cookies to Wellington Cares for its food pantry Friday, June 2. The girls, who attend Everglades Elementary School, were excited to help those in need.
Junior Girl Scout Sydney Combs enjoys helping people.
"Some people think that if they have homes, they don't need help, but they really do need help," she said.
Donating to Wellington Cares, she explained, is just one step they can take toward helping others.
"It's a good opportunity that people discover this, so we can help more people. Maybe someday, we can help all people," she said.
Junior Girl Scout Sophia Lobello was glad to be able to help Wellington senior citizens in need.
"There are so many people in need, and even if we can't help all of them, we can always help some of them," she said.
The troop gathered donations at their school for a week, and some donations came in afterward. According to Troop Leader Corynn Poirrier, the school has been very supportive of the troop's fundraisers and special events.
The Girl Scouts conduct food drives, she said, and the troop thought this one was special because it focused on helping senior citizens. "We've lost a few grandparents in the last couple of years, and they thought it was a good target population," Poirrier said of her eight-girl troop. "We're a small troop."
However, it isn't the size of the troop that matters, it's the heart they display in helping others.
The girls were excited as they shared their collection with Wellington Cares Board Member Cheryl Anders, Volunteer Coordinator Diane Gutman and volunteer Kevin Gutman.
"I thank you very much," Diane Gutman said. "Keep doing what you're doing, because you're awesome girls."
Wellington Cares provides free services to seniors in the community who are 65 years old or older. Currently, approximately 40 seniors utilize the nonprofit's programs, and 10 are utilizing the recently added food bank.
"We use our food bank to help seniors who are trying to supplement their medications and buying food," Gutman said. "We don't want anyone to have to make a decision whether they can eat or whether they buy their medications. Sometimes it gets a bit rough near the end of the month before their Social Security check comes."
Gutman was thrilled not only with the donation, but that the scouts cared so much about helping others.
"We love bringing our youth and our seniors together, and to know that there are people in our community who care for others," she said.
To learn more about Wellington Cares, call (561) 568-8818 or visit www.wellingtoncaresorg.com.
ABOVE: Junior Girl Scouts Mia Chiocca, Arianna Barrett, Annabelle Porrier, Sophia Lobello and Sydney Combs, and Daisy Scouts Madelyn Levy, Hazel Poirrier and Shelby Combs, with their donations.