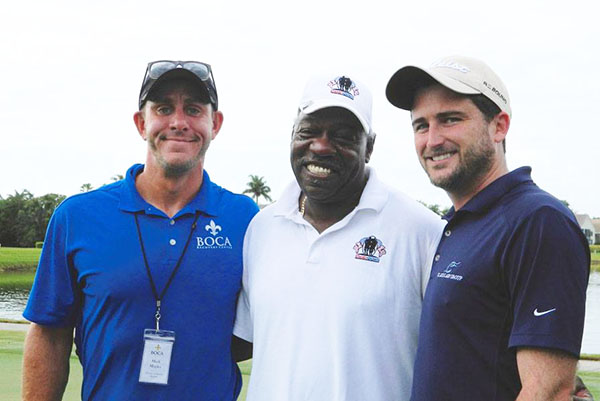 Golfers hit the greens at Indian Spring Country Club on Saturday, June 3 to help homeless and at-risk veterans in Palm Beach County.
More than 100 players and supporters attended Stand Down's "Tee Off for Veterans" Charity Golf Classic. Funds raised at the fourth annual tournament will help provide housing and support services for up to 40 veterans at Stand Down House.
"We want veterans to know they have a place to go; a place they can find help," said Michael Hudak of SHL Pharma, one of the tournament's sponsors. "There are people here who appreciate their service."
Stand Down, which operates Stand Down House, planned the tournament in June, which is Post-Traumatic Stress Disorder Awareness Month. PTSD among veterans varies based on their service era, but 11 to 30 percent of veterans are reported to suffer from the disorder, according to the National Center for PTSD.
"The community has to do more. Our veterans are out there suffering. They are dying every day. We can't let this keep happening," said Mark Maples of Boca Recovery, which also sponsored the tournament.
Mental health services are just one of the programs offered through Stand Down. The nonprofit helps 1,000 at-risk veterans each year with housing, job readiness and placement, referrals and family assistance. Stand Down's mission is to help those who have served the country regain their strength and dignity and to return to productive lives. All funds from the tournament remain in Palm Beach County.
For more information, visit www.standown.org.