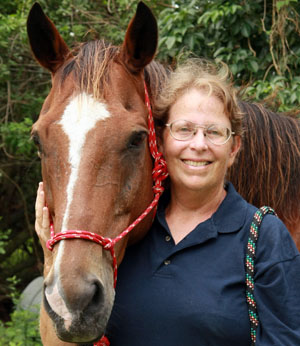 TAILS FROM THE TRAILS
Some people live interesting lives. Steve Driscoll is one of them. A member of Palm Beach County Fire-Rescue for the past 26 years, Steve works at Station 26 in The Acreage and rents a lovely equestrian property on A Road in Loxahatchee Groves, where he keeps Reno, his Quarter Horse gelding. They ride in reined cow horse events. He and a partner rent out the other 23 stalls.
As a first responder, and because of his extensive horse background, Steve gets called in to help with horse rescues, as was the case this past April. Skip, a 25-year-old horse belonging to Michael Carman in The Acreage, had wandered into the muck left behind when Carman's pond dried up, and gotten stuck.
"Me and my captain, Woody Crumm, went to help," Steve recalled. "We're both horse people. There were about 20 people from different stations helping on that rescue. It was a long and interesting rescue that went as good as it could. There's no doubt that horse would've died without help."
The team built a plywood platform all around Skip, because that muck was treacherous.
"If you stepped off the wood, you sank in it up to your waist," Steve said. "Guys were leaning over on the boards to dig a couple of holes under the horse so we could pass the webbing through. The horse was pretty exhausted. It stayed quiet and didn't fight or act spooky."
The digging went on for several hours. As Steve spoke about the rescue, I could relate personally. In the more than 20 years I've lived in The Acreage, this year was the first time my pond dried up. It is fenced off from the horses, but the ducks and geese call it home. One day, a goose wandered down to the mucky spot and got stuck. I went to rescue her and quickly realized that the muck was like quicksand.
I built a walkway out to her with boards, and scooped her up with a long-handled net, getting thoroughly coated in foul-smelling slime as she flapped around. After hosing her off, she was fine. No one else got stuck, and after a few good rains, the pond returned. That goose had weighed maybe 20 pounds. A horse is more like 1,000 pounds.
Back at the horse rescue, Steve and the others got the trench dug and passed the 10-foot webbing under the horse. A veterinarian sedated Skip, and he was pulled to safety. He made a full recovery.
"That was a pretty cool, fun rescue," Steve said. "It had a good ending, and we also had to think about how to get the horse out. I helped on another interesting rescue a couple of years ago. A horse got stuck in a septic tank. We wrapped a fire hose around him and rigged up a pretty cool pulley system tied to a tree to lift him out."
But Steve's rescue background goes well beyond local events. He has owned a series of FEMA-certified search and rescue dogs. Together, they have traveled to disasters around the world. His current dog, Drago, a Belgian Malinois, has only been on one deployment so far, helping during Hurricane Matthew last year. But his previous dog was something special. "Blaze was kind of a hero," Steve said quietly, a lot of emotion welling up at the memory of the border collie who died last year at age 15.
Indeed, Blaze is featured in one segment of a film called Superpower Dogs, due out in 2018. Like all of Steve's rescue dogs, he trained Blaze himself. Their most memorable rescue happened in 2010 when they deployed to Haiti after a 7.0 magnitude earthquake. The death toll was estimated at between 220,000 to 316,000 people, and more than 1.5 million people were displaced. Steve and Blaze were part of Florida Task Force 1, a team Steve started in 1998, consisting of 80 people and six dogs, who arrived six days after the quake.
"Florida Task Force 1 is a special group trained in disaster work," Steve explained. "We help out after bombings, hurricanes and earthquakes all over the world. In Haiti, we rescued 11 people."
One story was especially dramatic. "A mom told us she kept hearing her child crying, but no one believed her. However, I sent Blaze in the direction of the rubble where her home had been, down this steep hillside. Sure enough, he alerted, barking at something. It was hard to get down to him. I slid on my butt and found a small flat area to stand on. Blaze was barking at a solid concrete wall," Steve recalled. "Using hand tools, sledge hammers and picks, we broke a hole in the wall and shined a flashlight inside. Someone looked back. We got her out, a two-year-old who had managed to stay alive six days. She was dehydrated but otherwise unharmed — a true miracle. If she had been one foot in any other spot, she would have been crushed. The whole building came down."
Steve has been to other disasters: the Turkey earthquake in 1999 with a German shepherd named Lexus, and Hurricane Katrina with Blaze.
"I thought Turkey was the worst thing I'd ever see," he said. "Something like 30,000 people died. But next to Haiti, that was like a walk in the park. In Haiti, huge earthmoving machines pushed heaps of bodies into mass graves. There were bodies everywhere."
According to Steve, there are approximately 200 to 300 FEMA-certified rescue dogs in the U.S., and he is an evaluator. He holds tests across the country six times a year to certify dogs. Training and certifying takes a lot of work, but it's worth it. Just ask that mother in Haiti.