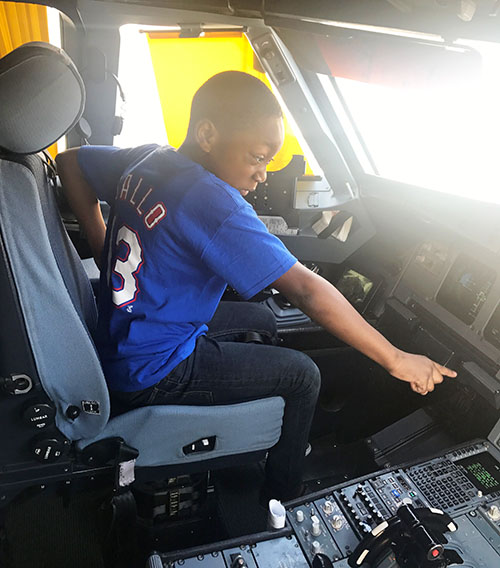 More than 65 participants, all families including people with autism, joined together at Palm Beach International Airport for the Autism Speaks and JetBlue Airways Blue Horizons for Autism event.
Air travel can be difficult for individuals with autism, and as a result, many families in the autism community feel they are unable to travel anywhere that requires flying. To help families prepare for air travel experiences, Autism Speaks has developed a relationship with JetBlue Airways.
"For many of us, our most precious childhood memories are made on family vacations. Yet, the experience of travel can be particularly stressful for children with autism and their families. That is why we continue to partner with Autism Speaks for the Blue Horizons for Autism airport rehearsal event," said Wendy Rodriguez, supervisor of airport and ground operations corporate social responsibility liaison for JetBlue at Palm Beach International Airport. "The event begins with check-ins, security screenings and plane boarding. Crewmembers then lead families through pre-takeoff procedures before disembarking."
Autism Speaks is proud to be working with JetBlue Airways to host Blue Horizons for Autism events across the country that provide families in the autism community with the opportunity to walk through the airport experience in the most realistic setting to better prepare them for future travel.
"To bring this event to Palm Beach International means so much to us, for our families and our autism community. We have three chapters in South Florida, so we tend to do things together and in the middle, which is usually in Broward. So to have this in our backyard was that much better," said Melissa DiNuzzo of Autism Speaks Palm Beach. "We continue to bring events to our community and raise crucial funds year-round. Our walk is our largest fundraising event, and we are always looking for new ways to raise money and new partners to help us with that, but to have an event like this shows the community we are so much more."
Autism Speaks has travel resources listed on its web site. Visit www.autismspeaks.org to learn more, donate or join a fundraising walk.
ABOVE: A child explores a plane during Blue Horizons for Autism.