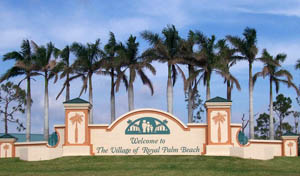 June 1 through Nov. 30 is hurricane season, and Royal Palm Beach officials believe that the village is up to the challenge.
"We have our annual events where each individual department has checklists of items we make sure are in place at the beginning of the season," Royal Palm Beach Village Engineer Chris Marsh said. "We did participate in the statewide exercise held in May."
Royal Palm Beach activated its EOC — Emergency Operations Center — as part of the training, and went over Hurricane Matthew action summaries from 2016.
"That worked out to be a full-scale training event because that storm didn't hit us," Marsh said.
During Hurricane Matthew, Royal Palm Beach's EOC was activated, which allowed any issues to be resolved. "That worked out to be a good exercise for us," Marsh said.
Royal Palm Beach residents also receive a hurricane preparedness newsletter. The general information directs residents to other web sites, what supplies to have on hand, when not to trim vegetation and more. Also, Marsh added, the Federal Emergency Management Agency's flood maps have been adopted, and the village has updated its ordinance.
For residents, Marsh stressed the importance of planning ahead and having a hurricane kit.
"My advice is to create a plan. Have your supplies ready prior to the event — this is a good time to get batteries, obviously some bottled water. You should always keep a supply at the beginning of the year," he said. "Know what your plan is for the storm."
Royal Palm Beach is not in an evacuation zone, Marsh said, so most residents do not evacuate during a storm event.
"Make sure your shutters are in good working order. If you have accordion ones, now is probably a good time to exercise those. If you have the traditional ones, you put them up last year. If you're missing any hardware, now is a good time to go out there and find the missing pieces and get them ready," Marsh said.
Royal Palm Beach utilizes social media to let residents know about weather events, in addition to traffic signs around town and the village web site. However, Marsh suggests that residents visit the Palm Beach County web site, www.readypbc.com, and keep an eye on news channels.
"We will also be putting pertinent information out as it relates to things that are specific about the village," Marsh said. "As it relates to a county-wide synopsis, you're better off going to the county's web site and monitoring that information."
The county site includes information about supplies, gas stations and super markets that are generator-powered, Lowe's and Home Depot stores that are generator-powered and more.
For those who cannot weather a storm at home, or those with special needs, there are shelters available.
That information is available on the county web site. Additionally, the two closest general storm shelters are Seminole Ridge High School and Palm Beach Central High School.
Getting the word out to prepare for hurricane season is important to Marsh, who would rather residents be ready ahead of time.
"Get [supplies] in order now, rather than waiting until we're in the window and the stores get crazy," he advised.