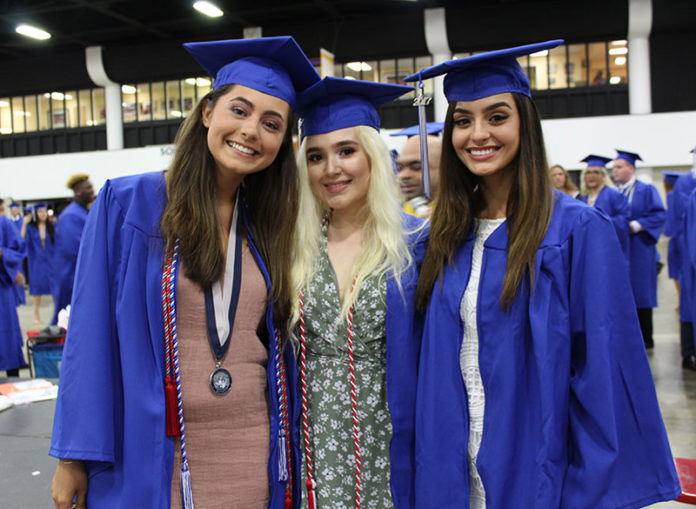 Wellington High School graduated its Class of 2017 on Thursday, May 25 at the South Florida Fairgrounds Expo Center.
This year's WHS seniors were the final graduating class to sit before soon-to-be-retiring Principal Mario Crocetti. He encouraged them to not let fear or failure be shackles that keep them from living a full life.
Central Region Superintendent Dr. Frank Rodriguez, speaking on behalf of Palm Beach County School Superintendent Dr. Robert Avossa, carried forth the central message that Avossa shared in a video to students — to embrace change and use it to propel oneself forward in life, as the graduates transition to their lives after high school.
"Congratulations, Class of 2017. Your future is without boundaries, and that video shows just how quickly limits are stretched and broken to really accelerate change," Rodriguez said. "Dr. Avossa has had the pleasure of watching six generations of students cross the stage, and he can honestly say that the Class of 2017 has experienced some of the most dramatic changes in technology, entertainment, pop culture and world events than the generations before you."
Rodriguez expressed how proud everyone was of Wellington's Class of 2017.
"We hope this motivates you to truly believe that nothing is impossible after you walk across this stage today," Rodriguez said.
Crocetti will retire in the middle of the 2017-18 school year, ending his nine-year tenure as principal of Wellington High School, 20 years as a principal in the Wellington community and 35 years as an educator in Palm Beach County.
Crocetti spoke about his own personal struggles with Crohn's disease and recent triumphs, which opened his life up to being pain-free for the first time in years. His message emphasized how fear can wreak havoc with the decision-making process.
"Many times, it's by choice. Some people will not seek treatment, for fear that family or friends will think badly of them, or that seeking treatment is a sign of weakness. Just like everyone else, they want to lead happy and productive lives, but their fears prevent them from getting help, which help them do so," Crocetti said. "Don't give into your fears. Focus on what you want, not what you're trying to avoid. Stand up, and speak out. Set your goals high."
Valedictorian Olivia Pearson competed 285 hours of community service in high school, along with 21 college-level courses. She plans to attend Florida State University, where she will pursue a degree in actuarial science.
"It is what we do with what we have been given that truly counts — wherever you go with what you've been given," Pearson said. "The only guaranteed concept is ourselves and how we choose to act. Please, graduates, classmates and fellow human beings, I am asking you to be kind to this world and the people in it — all of the people in it."
Quoting poet Maya Angelou, Pearson reminded everyone that we may not remember every word spoken by another individual, but we remember how people make us feel. "Never forget 'rule number four:' Love each other," Pearson said.
Salutatorian Sydney Meve completed 121 hours of community service during high school and 20 college-level courses. She will attend Wellesley College to pursue a degree in classical studies. Meve inspired a call to action for the Class of 2017.
"It is imperative to recognize that there is still much more work to be done," Meve said. "People of color and individuals in the LGBT community still face discrimination. The state of Mother Earth is still being jeopardized. Girls everywhere are still being told they're inferior. All our lives we have watched these changes being made. Now, it is up to us to maintain this momentum, so let's not make today the finish line. Today is a checkpoint, the next step in a series of accomplishments that will pave our futures and shape the fate of the world."
SGA President Sam Weingart completed 288 community service hours and completed 14 college-level courses. He will attend the University of Florida, where he will pursue a degree in accounting. Weingart focused his message on rejoicing in life, no matter the circumstances.
"In life, we could either wonder what would be, or we can live in gratitude that we are here now. We are healthy. We are graduating, and we have our entire lives ahead of us," Weingart said. "We are all setting out onto different paths today, and we are headed into an unknown and unpredictable reality. The way we handle our successes and obstacles determines the outcome of our future. It is with this mindset that our perception will allow us to not strive to simply 'keep up with Joneses,' but elevate and appreciate the simplicities that allow for self-satisfaction."
Senior Class President Jabir Chowdhury completed 223 hours of community service and has completed eight college-level courses. He plans to attend Florida Gulf Coast University to pursue a degree in civil engineering.
Chowdhury reminisced about the four years he and his classmates experienced at Wellington High School.
"You maybe know me as 'J-Bird,' or maybe you know me as that annoying kid, saying 'campaign week' with a speaker and mic, screaming his lungs off," Chowdhury said. "Either way… I'll always be your senior class president, and boy, were these last four years a roller coaster."
After each and every senior received a diploma, Maximiliano Maravankin, senior class vice president, presented Crocetti with the Wellington High School Eternal Flame for his time served as principal. A slide show of many memories was shown to the accompaniment of Bob Dylan's "The Times They Are A Changin'."
"You have changed each and every one of us who have come before you in our classrooms or through your office. You lead by example. You showed us the right path to take, even when it was difficult or unpopular," Maravankin said. "You encouraged all of us to discover our voices, and you found a way to include us. We want to say thank you for your [35] years of service to education."
ABOVE: WHS grads Rachel Diaz, Emily Fonticiella and Faith Moorhead.