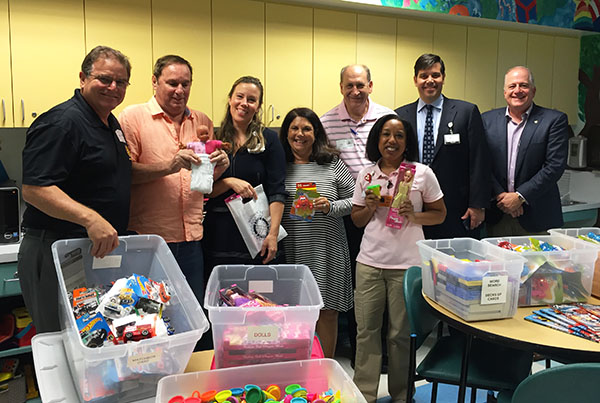 The Rotary Club of Wellington is well-known for its community service efforts. Whether it is bringing joy to young patients at the Children's Hospital at Palms West, providing basic necessities to children in Palm Beach County through Back to Basics, or working with a variety of other organizations, the club is actively collaborating to better the community.
Director of Community Service Maggie Zeller said the club had a great time during its most recent visit to the hospital on Wednesday, June 14.
"For the last two years, the Wellington Rotary Club has been bringing ice cream sundaes, sweets and candy for the patients and their families," Zeller said.
Every few months, a small group of club members — too many would be overwhelming — bring cheer to the young patients, typically around the holidays of Halloween, Christmas, the Fourth of July and Easter.
"This past visit, we asked what the children have on their wish list and what items we could donate to the hospital," Zeller said.
Their needs are small — simple things such as socks and underwear, which are often easy to forget to pack for extended stays, as well as toys and activities such as Play-Doh, Hot Wheels and Matchbox cars, crafts projects, Barbie dolls and clothing, decks of cards, activity books, adult coloring books and crayons.
"Just fun things to put a smile on the children's faces, or to help the families or the siblings pass the time while the children are hospitalized," Zeller explained.
Seeing the children smile, even from small gifts, is special for club members, including Palms West Hospital CEO Eric Goldman and Director of Marketing Kathryn Walton.
But Rotary doesn't just stop there. The club supports Back to Basics, which provides socks, underwear and school uniforms for underprivileged children in Palm Beach County schools; Dream Sponsors; YWCA Harmony House, with donations of clothing, housewares and participating in the Purple Purse campaign; the Lord's Place, with its family campus, men's campus and Burckle Place, spending time with residents; painting for Habitat for Humanity; working with Feed the Hungry in Palm Beach County; and packing meals for the Palm Beach County Food Bank.
"We're a busy club," Zeller said. "Everything that we're doing, we're really trying to touch on something to make our society a little bit better, in whatever small way that we can."
To donate gifts or other items, call Zeller at (561) 715-9262.
The club recently held its annual installation gala, with outgoing President Tom Neumann passing the gavel to incoming President Debbie Sanacore, who is thrilled with the club's community service programs and is looking forward to sustaining them.
"We're going to continue a lot of the same things that we've been doing. I might be adding a handful of others," Sanacore said.
In addition to the programs that the club supports, Rotary also provides scholarships to high school students, holds a shredding event, stages its annual peace ceremony, gives dictionaries to each third-grader in Wellington's elementary schools, and conducts its annual Outrun Cerebral Palsy 5K Run/Walk.
"I think it's important for everyone, as an individual, to try to help out those who can't help themselves. As an organization, we are equipped, and all in the right frame of mind to want to do those things," Sanacore said. "I really want to interact with the community more."
Sanacore is looking forward to the opportunity to coordinate efforts with other organizations to have a broader impact.
Upcoming activities include helping Back to Basics prior to the start of school and the Rotary Peace Ceremony in September. A fall fundraiser is in the works, with details to be announced shortly.
To learn more about the Rotary Club of Wellington, join the club when it meets every Thursday at 12:15 p.m. at the Wanderers Club in Wellington. To attend, call (561) 790-0558. For more information, visit www.wellingtonrotary.org.
ABOVE: Tom Neumann, Larry Kemp, Kathryn Walton, Maggie Zeller, Don Gross, Michele Armand, Eric Goldman and Mickey Smith with toys during a visit to the Children's Hospital at Palms West.