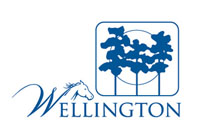 Wellington's Planning, Zoning & Adjustment Board recommended approval Wednesday of new design concepts for drive-through windows.
Associate Planner Kelly Ferraiolo said the staff-initiated zoning text amendment would allow alternative designs for drive-through windows and lanes facing a right-of-way.
The amendment changes part of the village's so-called "big-box ordinance" enacted in 2004 that provides additional design standards and guidelines for commercial and industrial properties 15,000 square feet or greater.
"The goal is to create a positive ambiance and strong community image and identity by providing for architectural and site design treatments that will enhance the visual appearance of developments in Wellington, while still providing for design flexibility," Ferraiolo said.
The change is being proposed because modern drive-through concepts are becoming more creative and technologically savvy.
"New concepts focus on maintaining speed and service while managing multiple orders simultaneously," Ferraiolo said. "Businesses are incorporating multiple lanes and unique designs and are straying away from the traditional single-service lanes. Drive-throughs are not just for restaurants and banks anymore. Business such as dry cleaners, pharmacies and even funeral homes are taking advantage of this amenity."
Ferraiolo said drive-throughs are often submitted late in the design process or retrofitted after completion, and are difficult to fit in because they interrupt circulation and parking for existing tenants.
"Allowing alternative designs to mitigate potential impacts for windows and lanes facing the right-of-way provides flexibility to support a business amenity that is in high demand, while reducing the impact to the existing tenants and patrons," she said. "All other standards, such as queuing requirements and circulation, will still apply."
Ferraiolo said the ordinance currently prohibits drive-through windows facing a right-of-way and allows only for the traditional single-lane design, except for financial institutions. The revised language would allow the planning and zoning department to allow design standards if something more than a single drive-through lane is proposed without making modifications to the code.
Mitigation efforts may include additional landscaping, berms, fencing and any other alternative design elements that limit the view of the drive-through window, lanes and menu boards from passing traffic.
"It removes the restriction for a single-lane drive-through for any type of business," Ferraiolo said, adding that staff has successfully applied alternative designs, including at the Starbucks store in Wellington Plaza at the southwest corner of Wellington Trace and Forest Hill Blvd., which installed a single-lane drive-through facing a right-of-way.
"The drive-through was recently constructed, and because the center was built prior to the big-box ordinance, the regulation did not apply," she said. "Staff still mitigated the potential impact by requiring additional landscaping and a buffer that was lacking."
Other commercial projects built before the 2004 ordinance have had drive-throughs installed facing the right-of-way, including the Wells Fargo bank in the Courtyard Shops at the southeast corner of Wellington Trace and Greenview Shores Blvd.
"The drive-through window and lane are facing the right-of-way, but a solid wall screens the teller window and vehicles," she said.
Board Member Alan Shullman made a motion to recommend approval, which carried 5-0 with Stephen Levin and Tomas Bueno absent.
In other business, Board Member Carol Coleman asked about the status of Equestrian Sport Productions' pending petitions, and Growth Management Director Bob Basehart said some proposed amendments have been submitted regarding the comp plan traffic analysis for changes at the International Polo Club Palm Beach, but the county traffic plan has not yet been resubmitted.
"Nothing has moved an inch since the last meeting," Basehart said.
Board Chair Elizabeth Mariaca asked when it might come back to the zoning board, which granted a postponement at its last meeting. Basehart said it's up to the applicant.
"They are responsible for responding to the staff comments on their master plan and their site plan, which they haven't done, and they are responsible for resolving their traffic issues with the county, which they haven't done," he said. "Until those things happen, the project is not going to move forward."
Basehart said it is unlikely to be on the board's July agenda, and possibly not in August, since it has to return to the Development Review Committee first.
Basehart added that there is a provision in the code that if an application is inactive and no efforts are made to move it forward for six months, it can be administratively withdrawn.