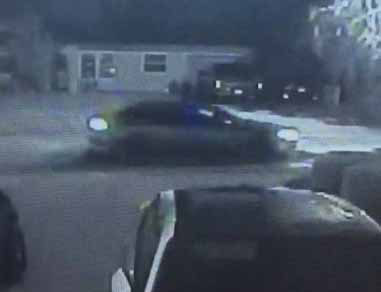 Crime Stoppers of Palm Beach County is offering a $10,000 reward for information regarding a home invasion Thursday, July 6 on the 200 block of Sandpiper Avenue.
There are currently no identifying characteristics known about the three men who allegedly tied up two victims and sexually assaulted one of them during a home invasion and robbery at the residential property.
There is an image of a four-door sedan that has been released by the Palm Beach County Sheriff's Office. Detectives believe it was used by the suspects to arrive at and flee from the crime scene.
During the crime, a suspect used one of the victims' cars to leave the scene, and it was found a short distance from the home.
The perpetrators also helped themselves to the victims' personal property. Several pieces of jewelry were taken from the home.
The two victims got away and were able to get help from neighbors before officers arrived. They were then taken to a local hospital for treatment.
"This is a very unfortunate occurrence to happen here in the village," Royal Palm Beach Mayor Fred Pinto said. "We don't have these kinds of crimes here. This is not common in the village at all."
Pinto recognized the effect that a crime such as this has on citizens.
"Because this doesn't happen in the village, it has a shock effect for everyone," he said. "It really is a shocking event to the consciousness of everyone in the village, and that's because it's so infrequent."
Royal Palm Beach and the Palm Beach County Sheriff's Office called a public forum at Royal Palm Beach Commons Park on Wednesday, July 12 to answer questions and address concerns from the public. Pinto said it was a chance for the public to become involved and speak directly with local deputies.
"There is an emotional impact that we've suffered in the village," Pinto said. "I thought it was very cathartic when they had the PBSO session with the people, because it gave them a chance to decompress a little bit and ask some questions that were on their mind and to hear the reality of how the crime-fighting and reporting process happens every day behind the scenes."
At a recent Royal Palm Beach Village Council meeting, Pinto spoke about current programs that help to prevent crime and about establishing new crime prevention programs. He recommended that communities consider forming neighborhood watch groups and residents join the PBSO's Civilian Observer Patrol (COP) program.
"That's where the citizens actually sign up and work with the PBSO and have patrol cars, to contact them," Pinto said. "I had put that out there that if residents were interested in doing that, they should contact the PBSO directly, and Capt. [Ulrich] Naujoks, who's in charge of our division here at the village, would get involved and make that process happen. Some people did follow up from that neighborhood, and it was very productive."
During the public meeting, where deputies addressed public concerns, PBSO officials said they would be able to help the residents form such crime prevention programs.
For Pinto, the village has been a safe place to live for decades and continues to be, even though crimes such as the July 6 home invasion can and do occur.
"People who have lived here for 30 years know this is a safe place to live and a place you can bring your family and your kids and raise them here," he said. "Unfortunately, crime is ubiquitous. It can happen at any time and any place, especially in the society we live in today."
PBSO Public Information Officer Teri Barbera stressed the importance of the forum held in partnership with Royal Palm Beach.
"That was very important to us to be able to calm their fears," Barbera said. "We want residents to be vigilant. We want that reward out there to be prominent, and we want the suspects apprehended. This was a heinous crime."
To provide further information about the ongoing investigation, contact Crime Stoppers at (800) 458-TIPS.
ABOVE: The PBSO has released this image of a four-door sedan that detectives believe was used by the perpetrators.