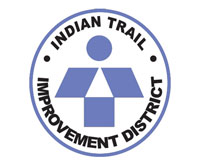 The Indian Trail Improvement District Board of Supervisors gave unanimous initial approval to its proposed 2017-18 budget during a special meeting last week before handing the budget over to its new management company, Special District Services.
The total proposed budget for fiscal year 2017-18 is $13,494,675, compared with $13,162,059 in the current year.
The proposed budget includes an average 8.05 percent assessment increase, or $42.44, to $594.60 for activated units, and a 7.71 percent increase, or $36.87, to $535.07 for all units.
The board's top priority is to improve drainage as part of implementing a comprehensive drainage plan. Other priorities are to improve canals using in-house canal improvement personnel for canal maintenance, continue the automation of manually operated control structures, and adhere to road improvement projects assigned by units of development.
Budget expenditures by department are 43 percent ($5,811,622) for road maintenance and operations, up nearly $200,000 from the current year; 14 percent ($1,928,284) for debt service, down slightly from the current year; 14 percent ($1,922,769) for administration, up nearly $30,000 from the current year; 18 percent ($2,431,269) for stormwater management through pump operations and aquatics, down approximately $45,000 from the current year; and 11 percent ($1,400,741) for parks, up approximately $180,000 from the current year.
Administrative costs are up significantly over the past several fiscal years due mainly to increased employee costs, according to the budget report. Park costs have increased from $1,050,304 in fiscal year 2013-14 to $1,400,741 in the proposed budget mainly due to increased costs in capital outlay park maintenance and employee costs.
Road maintenance and operations costs have fluctuated from a high of $5,920,028 in fiscal year 2013-14 to a low of $5,161,383 in fiscal year 2014-15 due to changes in employee and equipment costs, as well as capital spending. This puts the proposed budget on the high end of the past several years, but not significantly out of range.
Budget highlights include a proposed 2 percent merit raise for employees, replacement of park equipment at a cost of $130,000, continuation of the R2 road overlay collection program of $375,000 per year for 10 years, continued culvert replacement and canal improvements in the M-1 and M-2 basins, and added costs for maintenance of the Acreage Community Park expansion.
At the June 27 meeting, Supervisor Betty Argue said she had concerns about being able to fund some items, but assumed there were cushions in the budget that could be used to build up areas that had shortfalls. She encouraged the budget's adoption in light of looming deadlines and the need to pass the document on to the new management firm.
However, Argue expressed the need for a full evaluation of the district to make sure that all of its infrastructure needs are being addressed. She noted that assessments in some units of development went down because reserves were tapped.
Argue added that she thought some approaches to infrastructure improvements, such as slip-lining to replace culverts conducted by outside private companies, were not cost-efficient, and that some of the improvements could be done more efficiently in-house. She had discussed her cost concerns with ITID Engineer Jay Foy.
Supervisor Ralph Bair agreed, adding that he has been told that the district is spending more on slip-lining than the old-fashioned way of digging up the culverts and replacing them.
Argue suggested that district personnel be trained and equipped to do the work in-house, adding her concerns that ITID staff members are not capable of replacing the pipes.
"We need to be working as a board to ask, 'Why isn't this happening?' and make some changes culturally," she said.
Supervisor Gary Dunkley agreed that more work should be done in-house.
"Jay said we had a million dollars a year in infrastructure projects," Dunkley said. "We kind of sloughed off this year."
He added that administrative costs are "ridiculously high."
"We have to look at our administrative costs," he said. "Our administrative costs are higher than our park costs."
Dunkley added that a better in-house equipment maintenance plan is needed, pointing out that there are four graders that should have been rebuilt that have not been, and that some of the equipment has bald tires.
"We need to change the philosophy of procrastination," he said.
Argue said she hoped to work out some of those issues at the board's budget workshop, set for Wednesday, July 19 at 4:30 p.m., prior to the board's next regular meeting, where it is expected to set the Truth in Millage (TRIM) rate. After that, the board can reduce the assessment rate but not increase it.
Bair made a motion to approve the budget as proposed, which carried 5-0.