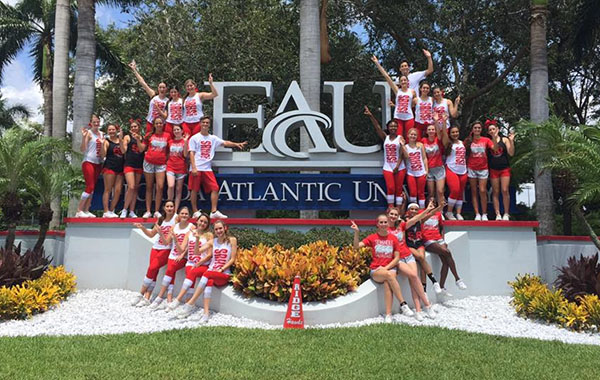 Following the Universal Cheerleaders Association annual summer camp, held on the Florida Atlantic University campus, the Seminole Ridge High School varsity and junior varsity squads each returned with awards:
Varsity: Superior and Leadership awards, first place in the Extreme Routine Competition, and two Spirit Sticks.
Junior Varsity: Superior award and second place in the Extreme Routine Competition.
The cheerleading Hawks also earned the coveted UCA Banana, designating the teams as the most spirited, friendly and helpful.
Hawk Battalion to Hold Car Wash ­— The SRHS Army JROTC Hawk Battalion will hold a car wash fundraiser at the Acreage Burger King on Saturday, Aug. 26 from 8 a.m. to noon. Proceeds will help to fund battalion activities.
American Sign Language Club — The SRHS American Sign Language Club will have its first meeting Thursday, Aug. 31 from 3 to 4 p.m. in Room 4-211. Any students not in ASL class are welcome to attend. The ASL Honor Society will have its annual induction ceremony on Tuesday, Sept. 19 at 6:30 p.m. in the SRHS auditorium.
Thespians To Perform a Christie Classic — The Seminole Ridge drama department will perform Murder on the Nile Oct. 19-21 as its first production of the school year. This Agatha Christie classic takes you on a journey down the Egyptian Nile with many interesting characters — all with powerful motives to commit murder. Tickets are $5 for students/seniors and $7.50 for adults. They are available online at www.showtix4u.com or at the door.
Upcoming Blood Drives for 2017-18 — One Blood awarded $14,500 in scholarships to 10 Hawk seniors last year. The school's parent/community drives are growing, as are the number of community members donating for Hawks' future scholarships. But the most important recipients are those in local hospitals needing transfusions, platelets and surgeries.
On-campus drive dates for 2017-18 are: Sept. 1, Nov. 10, Jan. 19, April 27 and May 25.
Parent/community drive dates for 2017-18 (3 to 8 p.m. by the gym lobby entrance) are: Sept. 6, Nov. 16, Jan. 24 and May 2.