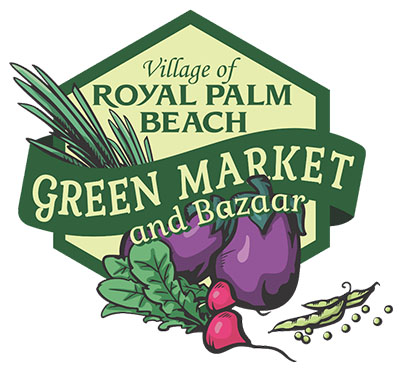 As we embark upon the fall season, green market season is just around the corner. Weekly green markets will open next month in Wellington and Royal Palm Beach, both run by POTTC Events.
The Green Market at Wellington will open Saturday, Oct. 7 and be open Saturdays through April 28 from 9 a.m. to 1 p.m. near the Wellington Amphitheater. The green market will be closed Thanksgiving, Christmas and New Year's weekends, as well as Nov. 18, Jan. 27 and March 24.
The Royal Palm Beach Green Market and Bazaar will open Sunday, Oct. 15 and be open every Sunday through April 29 from 9 a.m. to 1 p.m. at Veterans Park on Royal Palm Beach Blvd. The market will be closed Thanksgiving, Christmas, New Year's and Easter weekends.
POTTC Events owner Kathy Gilbert is looking forward to the third season of the Green Market at Wellington.
"We will have everything from plants, produce, specialty foods, artisan foods, baked goods, soaps, handcrafted items and a lot of really nice things — something for everybody to go there and shop," Gilbert said.
Typical green markets, she said, do not offer a diverse selection.
"We've opened up this market not only to just bringing in produce and plants, but we've also opened it up to other vendors, such as artisan craft people," Gilbert said. "A lot of green markets don't necessarily bring that out, but we do allow that."
For opening day, Gilbert is planning on having live music.
"I always try to bring in something special for the opening day," she said. "It's something that the whole community likes to come out and be a part of."
In Royal Palm Beach, the green market will be starting its fifth season. Opening day will have live entertainment, and Gilbert is expecting to bring in bounce houses, as she has in previous years.
"For Royal Palm Beach, the market is on Sunday. It is held at Veterans Park, which is a beautiful park setting. Now that we're going into this fifth season, it's well-established, so more and more people are coming out and really, really enjoying the market," Gilbert said. "They love to come out and shop the produce vendors. Fruit and vegetables, plants, baked goods, clothing, arts and crafts. We have a nice selection."
Both green markets are open rain or shine, with free parking. They're also both family-friendly and pet-friendly. As long as dogs are well-behaved and on a leash, they are welcome to visit, Gilbert said.
Additionally, both markets will have favorite vendors returning.
"We love to see a lot of our vendors from the past season returning. We're going to have some new vendors joining us as well," Gilbert said. "That's something that we really love to see; bringing back the people who have been there in the past who everyone knows and loves, in addition to welcoming new vendors to the market."
Each market offers something special and different. Some vendors come to both markets, however, there are unique, different vendors at each market.
"There's always something new and different to see," Gilbert said.
"They could pick up some of the fresh produce, but when they're there, they may also find the perfect gift for somebody."
POTTC is an event production company that works throughout Florida.
"We either put on or assist with festival and events throughout the state. In addition to both green markets that we run, we also work with different municipalities on special events," Gilbert said.
The company stages other themed events and festivals ranging from pirates to seafood.
Vendor opportunities are still available. For more info., visit www.greenmarketatwellington.com or www.rpbgreenmarket.com.