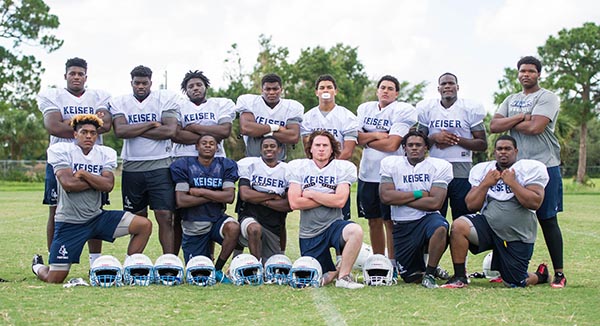 The Keiser University football program invited the media and the public to its first practice in pads on Saturday, Sept. 16. The university has been promoting its new football program throughout the summer, and the excitement was palpable as players began practicing with their new equipment.
Seahawks head coach Doug Socha has been keeping his squad and staff focused on their path to be competitive in the National Association of Intercollegiate Athletics (NAIA).
"It felt great, because of how hard these kids have worked and all the build-up through the summer, the conditioning, learning the culture in the weight room and school starting, the kids finally have something that resembles football," Socha explained. "It was our first step, we did some contact, but as we progress, it's going to get better and better."
The heaviest contact was during a one-on-one drill that the players enjoy, Socha explained. "They love it because it's one-on-one combat, and the video is on them," he said. "We told them two things: you're either going to get exposed or get discovered."
The Seahawks definitely attracted the attention of Palm Beach County and the surrounding areas of South Florida. Most of the roster is made up of players from Palm Beach County high schools. Socha explained that the area has a wealth of talent and it provides kids an opportunity to play college football and remain close to home.
Fifteen athletes from the western communities are on the roster: Tremayne King, Javen Miles, Austin Perrotta and Chris Hart of Seminole Ridge High School; Camron Allen, Sage Chen-Young and Dion Cooper of Wellington High School; Kemar Downer of Palm Beach Central High School; and Tre Gilbert, Daniel Rivera, Kyle Maschi, Eugene Marlon, Andy Angervil, Mikahil Hanson and Ron Brown of Royal Palm Beach High School.
The rivalries established over the years are now reflections of humorous conversation among the new teammates. The local players seemed genuinely enthusiastic about playing college football and being able to reconnect with one another.
"Either way, I get to play college football, and I love it," Hanson said. "It has been a while, so you just have to readjust."
The entire Seahawk squad will practice through the season but will not officially compete in any scheduled games until the 2018 season. A stadium, along with facilities, are in the works to be constructed at the flagship campus in West Palm Beach.
But that does not deter any of the players from their focus and motivation. "Everybody is coming together as a team," Rivera said. "The chemistry is building, little by little."
"I think we took off great today; defense is flying to the ball," Allen added. "Everyone is hustling."
Allen is a Wellington alum defensive lineman. He was an all-conference selection in 2016 and will play on the defensive line for the Seahawks.
Most the players noted that the college game differs slightly from high school football but welcome the new challenges that await them. "It feels pretty good to represent my team," said King, who will play cornerback for the Seahawks. "It's different from both the mental and physical standpoint. It's a faster game and more intense."
Cooper returns to South Florida from Georgia as a Keiser Seahawk. He played cornerback for the Wolverines and probably will line up as a safety for the Seahawks. "It feels good to be back in Florida," he said. "I feel comfortable being with Camron and Sage."
If there is any doubt about making the decision to play for Keiser, just ask Hart. The 2016 all-conference tight end believes he made the right choice.
"For me, it's more comfortable staying in the state than going somewhere that's more frigid," he explained. "This was the right school for me. I had a lot of schools looking at me, but I just felt like this was home."
Hart will make the transition to the defensive line for the Seahawks.
Socha is confident in his squad and coaching staff to build a successful program for Keiser but understands there is still much to be done.
"Internally, football-wise, it's just nonstop development," he said. "They need to learn how to be a college student, they need to compete in the classroom, and we need to build our identity and culture in the weight room and on the field, so it's just nonstop development."
There are plans for an alternative site if the school is faced with delays in the stadium construction. Locker rooms, showers, a weight room and offices in a facility are also planned, and Socha stressed that there is a 100 percent commitment from the university.
Socha dispelled any concerns or questions of keeping the players motivated without playing a season in 2017. "A lot of people ask me, 'Well, you're not playing a game, so how do you keep these guys focused?" he said. "These guys are focused, they're locked in, they're locked in academics, weight room and football as well; they love practicing."
Socha explained that his staff will focus on getting the players in shape and eventually work into going live and scrimmaging.
This group is part of history in the making for Keiser and Palm Beach County. They will set the bar for years to come for kids who have the desire to play football at the next level while earning an education without having to travel far from home.
To follow the Keiser Seahawks, visit www.kuseahawks.com.