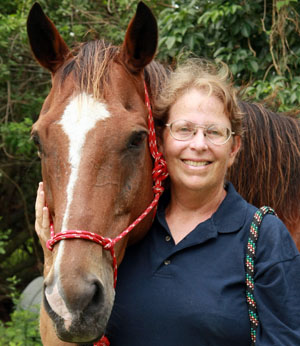 TAILS FROM THE TRAILS
Jessica Rhinelander grew up in St. John's, Newfoundland, riding hunter/jumpers. When she was 12, she got scouted and selected by the Equine Federation of Canada for dressage competition.
"I started my competitive career through this opportunity," Jessica recalled. "I traveled to Ottawa and worked with a wonderful coach, Ruth Koch. Then I bought my first dressage horse, Allende, a Danish Warmblood gelding. I flew back and forth to train there with him in Ontario on the weekends. I had to balance riding, training, competing and school."
On Allende, Jessica won multiple Canadian FEI Junior Championship and Reserve Championship titles, was a member of the Canadian contingent at the Mexico CDI3* in 2005 and team silver medals at the North American Junior/Young Rider Championships and in Lexington, Va., in 2006, and represented Canada at the FEI Young Rider World Cup, in Frankfurt, Germany, in 2008.
Taking a year off from college, Jessica spent a year training in Germany in 2009, then moved to Wellington to train with U.S. Olympian Robert Dover and Canadian Olympian David Marcus.
"After a while, I realized it was silly to keep moving back and forth, from Wellington to Canada, so in 2012, I moved to Wellington permanently," Jessica said.
She currently runs Champion's Gate, a boutique-style, full-service dressage facility in Wellington. She specializes in training young horses and teaching amateur adults, as well as para-equestrian athletes, from the introductory stages through international competition. One of her students, Jody Schloss, was a member of the Canadian team at the 2012 London Paralympics.
Jessica also holds clinics back in Newfoundland, whenever she has time to go home and visit friends and relatives.
"I offer training specialized to the needs of each horse and rider," she said. "Whether it's entering your first dressage show, earning your bronze of silver medal, wanting to qualify for NAJRYC, or improving your horse's flat skills for the hunter/jumper ring, I can help you achieve your goals."
Jessica enjoys working with horses and riders of all levels and abilities. She does board and train horses at her facility. She travels to farms, and does have one school horse. "But he's not for every rider," she cautioned.
Jessica said that one of the most important guidelines to remember when training is consistency.
"Being consistent in what you want and how you ask for it sets the horse up for success," she said. "To have a good relationship with your horse, which is the basis of all good riding, the horse must be confident and happy in his work. There will always be good days and bad days, but if you strive to improve the small things each time you ride, you'll keep the horse interested without overwhelming his personality."
Keeping the horse happy is her mantra.
"That's why I don't like a lot of repetitive drills," Jessica explained. "I prefer cross-training. Include a gallop down a trail, or something else to give him a mental and physical break from ring work. Lots of different experiences also help him relax at shows, where new sights won't be so alarming."
Jessica works with a variety of horses, all breeds and builds.
"There weren't any fancy dressage horses where I grew up," she smiled. "I rode Quarter Horses and mixed breeds. One important rule is to recognize each horse's limitations. Don't push too hard for something he can't do. That often results in the horse behaving badly out of pain or frustration. Work within his limits to develop his best possible performance."
With professional riders, Jessica sees her role more as that of coach than teacher. "Professionals typically already know pretty much what they're doing and have a system in place," she said. "I supplement their rides with techniques, which will help them achieve their goals. The rider takes a leading role, and I show her better ways to communicate with her horse and point out things which may be holding them back. It's OK to make a mistake, because then you can understand what happened and know what to work on."
Jessica is also available to come to shows, both local and abroad. "My wide-ranging experience as a competitor allows me to help riders organize their time at shows," she said.
When Jessica sees a dangerous situation, she talks privately with the rider to see what's going on.
"Some people put too much pressure on themselves," she said. "The biggest thing, when you're riding, is to come to each session with an open mind. Work with your horse, and help him learn something new."
Jessica also acknowledges how wonderful older horses are. Because of their background knowledge, they tend to be steadier, more dependable, and more patient when it comes to teaching the rider.
She enjoys working with all sorts of clients. "Every rider has her own set of challenges," Jessica said. "Everyone has different goals. It might be to compete, or to just enjoy riding your horse more confidently. On the whole, as you work to perfect a movement, you gain confidence. All you really need is a willingness to learn."
For more information, call (561) 315-2477 or visit www.jrhinelander.com or www.facebook.com/RhinelanderEquestrian.