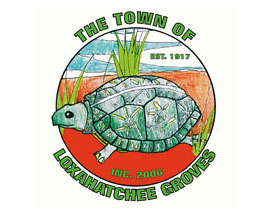 The Loxahatchee Groves Town Council last week approved the preliminary reading of an ordinance that updates the town's Unified Land Development Code and preserves uses to allow mobile homes and premanufactured homes that received permits from the town or Palm Beach County to be rebuilt or replaced if damaged or destroyed.
At the Tuesday, Oct. 3 meeting, planning consultant Jim Fleischmann said that the ordinance is a series of revisions to the ULDC to make the code more in keeping with the standards of the town.
"The principal task was to review uses permitted in the AR [agricultural residential] district, which covers about 99 percent of the incorporated area," Fleischmann said. "It eliminates uses not considered in the town's character."
The Planning & Zoning Committee and the Unified Land Development Committee recommended approval of the ordinance, but also recommended that public schools, which are currently allowed in the AR district, not be allowed.
"Both recommended they not be allowed, but staff disagrees," Fleischmann said. "Staff recommends they be allowed in order to remain in the comp plan. If the council wants to remove them, it should do a comp plan amendment."
Councilman Todd McLendon said the ordinance makes some uses more restrictive than the county, while the town has historically taken a position that it wants to be more lenient on allowable uses.
Vice Mayor Ron Jarriel pointed out that the town had allowed mobile homes on 10-acre lots. He asked if damaged or destroyed mobile homes could still be replaced, and Fleischmann said any mobile home or premanufactured home owner who received a permit could replace or repair the homes.
McLendon made a motion to approve the ordinance with the caveat that the public school policy needs to be fixed, pointing out that currently a charter school could apply for approval and the town would have no recourse to object. The motion carried 5-0.
In other business:
• The council approved a new contract with Fleischmann's firm, Land Research Management, with a condition including that it have $1 million in liability insurance.
Fleischmann said it is difficult to find insurance companies that will cover him because they do not have a category for a planning consultant, but he was working on it.
Town Attorney Michael Cirullo pointed out that Fleischmann has been working for the town for nine years without a contract until now.
Councilman Ryan Liang made a motion to approve the contract with the condition that the firm obtains liability insurance, which carried 5-0.
• The council agreed to seek requests for proposals for the replacement of failing culverts at C Road and Collecting Canal using money collected from the half-cent sales surtax approved by voters.
McLendon added that he would like to get the culverts replaced in-house to save money.
Mayor Dave Browning said the roads have been stabilized since the hurricane, and that he didn't think it was a pressing issue right now.
Town Manager Bill Underwood said there is money in the budget to replace the culverts, but no provision for a design-build, and recommended a design-build RFP for C Road and Collecting Canal, as well as other failing culverts.
Jarriel said he thought that since both culverts made it through the hurricane, taking action now was premature. "You're worried about something that is not causing a problem now," Jarriel said. "Let's concentrate on roads. It's going to get worse if we don't do something now."
McLendon said he would rather replace the culverts now rather than wait until an emergency, and made a motion to put out an RFP, which carried 3-2 with Jarriel and Councilman Dave DeMarois opposed.
• The council approved the final reading of an ordinance regulating vegetative nuisances on public roads, which prohibits property owners from allowing vegetation on their properties to impact adjacent public roads.
McLendon made a motion to approve the ordinance, adding that he hoped the town would send out notices to violators quickly because some areas of the town are very overgrown.
• The council approved a request from the Loxahatchee Groves Water Control District asking for a letter supporting legislation proposed by the LGWCD to become a dependent district to the town.
McLendon made a motion to approve the request, but said he would like to remove a provision that the council would appoint the supervisors.
Cirullo said that as a dependent district, the governing body would be the council, which makes the appointments. "If the council wants to serve as the board of supervisors, it can," he said.
Council members also discussed areas of the water control district that are not within town boundaries.
McLendon pointed out that Palms West Hospital, for example, would need to choose whether to be annexed into the town or the Village of Royal Palm Beach.
Cirullo said boundaries outside town are regulated by state law.
McLendon's motion carried 5-0.
• The council awarded contracts for road grading and other road services not covered in the town's current contract with Bergeron Land Development.
Underwood said the contracts will not replace Bergeron but provide services not currently covered in the contract, including road grading, watering and rock replacement, tree trimming and removal, tree debris removal, mowing and weed eating, OGEM repairs, markings for speed humps, and traffic sign repair and replacement.
Cirullo pointed out that the bids are supplemental to the existing contract and adds options for the town manager.
Liang made a motion to approve the contracts, but to remove mowing, OGEM repair, pavement marking and sign repair, and to request other bids, which carried 5-0.
Liang said the priority is to bring the roads to conditions where they are passable.
The council agreed to allocate $100,000 for materials for road repair, which has been the major restriction to road improvements. It will require more than 1,000 loads of rock to bring town roads up to grade.
• Finally, the council approved a legislative request for monetary assistance to make improvements to D Road South from Okeechobee Blvd. to Southern Blvd. during the upcoming fiscal year.
Underwood said he had requested a scope of services from the town's engineer, Keshavarz & Associates, to prepare conceptual engineering plans for proposed roadway improvements, which will include water, wastewater, paving, guardrail and drainage improvements, along with a summary of quantities and cost estimates.