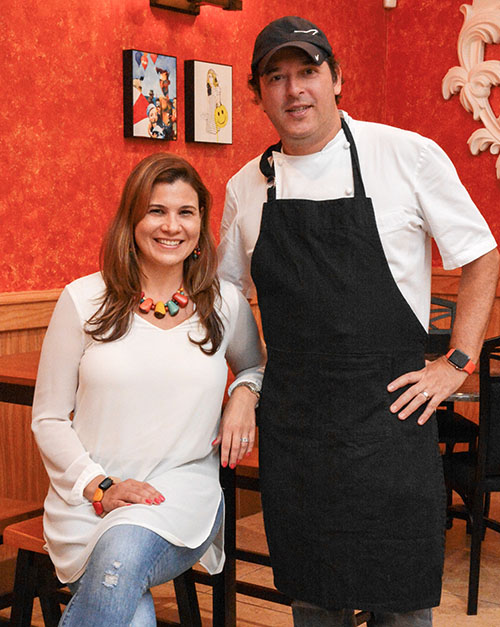 For Erika Salleres and Andres Zambrano, owning their own eatery was always a dream, and when they were married four years ago, they wanted to turn that dream into reality.
Annexo Coffee & Bites is an eclectic establishment that doesn't fit into one particular category. It's a coffee house, wine bar, beer garden and café all rolled into one.
Salleres and Zambrano are native to Venezuela, but they both have been in the United States for the past decade. Salleres is an executive with Citibank in South Florida and has lived in both New York and Washington, D.C. Zambrano is a graduate of culinary school who traveled the world as a personal chef.
Salleres is co-owner and general manager, while Zambrano is co-owner and executive chef.
"I was cooking for other people with very specific diets and palates, and I wanted to cook what I like for people," Zambrano explained.
The coffee bar offers many different kinds of coffee, along with espressos, lattes, macchiatos, cappuccinos and teas.
"We have coffee because we are coffee lovers, and were tired of the same coffee we find out in the streets," Salleres said.
There are extensive offerings of bottled and draught beer, wine by the glass and bottle, "bites" (appetizers and panini sandwiches), salads and sweets on the menu.
"Annexo" in Spanish refers to a guest apartment that's attached to or near the main house. It's a metaphor for offering one's culture, food, tastes, style, values and family traditions to the community. For Salleres and Zambrano, it's offering who they are to the people of the western communities to enjoy.
Zambrano said the couple spent a lot of time planning and exploring locations. It came down to a choice between Fort Lauderdale and Wellington, but the Wellington location and space were too good to pass up.
The décor is very comfy. The walls were painted by family and friends in soothing earth tones with comforting colors, while Salleres and Zambrano collaborated in choosing tables, chairs, benches and couches.
Zambrano has 20 years of experience in the food and beverage industry, working for hotels, restaurants and private clients. If you ask him to use one word to describe the food he loves, it is "classic."
"I want to serve cuisine that requires a lot of techniques and layers, but is in an informal presentation," he explained.
Zambrano is trying to network with farmers in the area so that he can locally source as many ingredients as possible.
"We want to create something with good food that is elegant, but with an informal presentation and an eclectic setting with friends and family all around," Salleres explained. "We want homemade with high standards."
She said they want to bring the community together by reaching out to poets, musicians and artists, and have them perform and display their works of art at Annexo.
Zambrano added that he would like to show some of their favorite movies on the big-screen, high-definition television that is mounted on the wall. They want Annexo to be a place where conversations occur and relationships are sparked and develop.
Annexo is a family business beyond just Salleres and Zambrano, with his mother and sister also working there. It's a place where you can go and relax by yourself, or to hang out with friends, grab a quick bite to eat or savor a coffee with a rich, taste-tempting dessert.
The prices are quite affordable, with the no food item priced higher than $12.50.
"We want people to experience the passion we have for this place and what we offer," Salleres said.
"This is our dream!" Zambrano exclaimed.
They will host a grand opening celebration on Friday, Nov. 17 at 6 p.m. There will be a tap takeover by Lexington Brewing, along with beer and wine selections and a special trio plate for the occasion.
Annexo Coffee & Bites is located at 10120 W. Forest Hill Blvd., Suite 170, in the Pointe at Wellington Green. For more information, call (561) 333-0287 or visit www.annexocoffeeandbites.com.