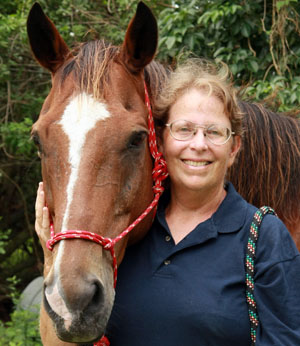 TALES FROM THE TRAILS
The Palm Beach County Mounted Posse show is in its 60th year and still going strong, mostly because of the relaxed family atmosphere and the way the class lists are tweaked and updated. Some of their newer offerings include dressage and ranch classes, both offered on Saturdays of the two-day shows.
Ranch classes, which are in their second year, include trail, pleasure, reining, and conformation. Posse Pleasure Director Vicki Wallace-Moore is in charge of them, along with the whole pleasure show on Sunday.
"Ranch classes differ from regular trail classes in the types of obstacles," Vicki explained. "The ranch classes try to duplicate things a rider might be expected to do or encounter on a working ranch. So, for example, you may have to rope a steer head stuck in bales of hay or shavings, and step over or through cut tree branches rather than poles, to mimic natural terrain. Riders wear plain clothes, not chaps and fancy show gear, and the saddles and tack are plain, rather than blinged out with silver."
Vicki said that this is another plus, because fancy show clothes and tack can be a bit too much for some people's pocketbooks.
Vicki's job description includes such tasks as hiring judges and facilitating their needs, such as hotel rooms and other accommodations, if needed. "We try to stay with local judges," she said. "We listen to riders' feedback and invite back judges who are not only fair and knowledgeable, but ones who take the time to give our competitors feedback on how they can improve. That's a big part of being a helpful and successful schooling show. It takes a little extra time, but it's worth it."
She said the most difficult part of her job is keeping everyone happy. She also fields any problems or complaints, which are happily few and far between. "Running the show is a lot of work, but I love it. Thank goodness I have my husband, Rick, to help out," Vicki said, noting that Rick sets up the trail obstacles.
Vicki has been a part of the Posse family for her entire life. Her father, Roy Wallace, joined the board when they moved to South Florida in the later 1970s. Her daughter Chelsea Chilcutt serves as vice president.
"I grew up showing at Posse," Vicki said. "I did everything — English, western, barrels. I love the family atmosphere. It's a great place for kids to get their feet wet and move up; a stepping stone. What I really like is that anyone and everyone can be successful here, no matter how much money you have to spend on tack, equipment or horses. There's no pressure."
In her years, she has seen many changes.
"When we moved from the old Belvedere Road spot to the current location at Jim Brandon, we were able to expand and add more classes because of the larger facility," she said. "For a while, when the economy was down and a lot of people had to give up their horses and move away, that hurt us. But things have come back, and now it's a real plus, being able to hold our shows at this world-class show grounds. We have a lot more rings, riding areas, trailer parking, a covered arena, plus two barns full of stalls for overnight stays. It's a lot more convenient for everyone."
Vicki said that the show's quality has improved, as have the year-end awards. What hasn't changed is the friendly atmosphere, and that's definitely one of the big draws for competitors. Indeed, riders come from all over South Florida to show at Posse.
Lauren Newberg drives up from Davie each month with Aree, her Paint mare. "This is our first season doing the trail classes," she said. "This is a great show. Terrific facility, really nice people. I've been showing in pleasure classes for years, and this is a lot more exciting. I felt like we needed to break out of our comfort zone. Aree really likes doing this. Her favorite obstacle is the bridge. She also has opening gates down pat. She absolutely loves pushing gates open, which sometimes causes problems at home."
Acreage residents Lisette Arias and her husband, John, also enjoy showing in Posse's trail classes. "It's fun and challenging," Lisette said.
Sometimes she has problems with gates because they can be low and Zippo and Me, her gelding, is fairly tall. "We love coming to Posse. It's close to home, a lot of fun, and we get to support our local club," Lisette said.
"More people should try the trail classes," John added. "It doesn't take long to teach your horse how to do everything, and working quietly and patiently really pays off. Horses are smart. They respond to TLC and pick this stuff up easily. It also comes in handy in real-world situations."
The classes run smoothly and quickly, and everyone enjoys working through the courses and encouraging their fellow competitors. It all adds up to an enjoyable afternoon at a show, which is Vicki's goal.
Vicki said the part of her job she likes most is watching the faces of the kids when they win a class. "They're just thrilled to ride out with that ribbon," she said.
Next year's shows start up again in February and run through November, with a July through August break. Vicki hopes new people will come out to show or school or just watch. There's something for everyone at Posse. For more information, visit www.pbcposse.com or www.facebook.com/pbcposse.