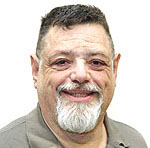 'I' ON CULTURE
Murder on the Orient Express turned out to be a pretty good film, one that provides both charm and interesting philosophy. Based on the classic Agatha Christie novel, it is hardly the first time that the book has been turned into a movie. The version done 40 years ago won several Academy Awards. This one, although the basic plot is the same, focuses on different elements.
Hercule Poirot (Kenneth Branagh, who also directed) is the self-proclaimed "greatest detective in the world" in the 1930s. After solving a crime in Jerusalem, he hurries to England to solve another and takes the famed train, the Orient Express, from Istanbul to Calais. There is a group of really interesting people on the train, and one of them, Samuel Ratchett (Johnny Depp) is murdered.
Finding out "who done it" is the main theme of the rest of the film as Poirot interviews key characters: the man's secretary (Josh Gad) and butler (Derek Jacobi), a rich widow (Michelle Pfeiffer), a doctor (Leslie Odom Jr.), a Russian princess (Judi Dench), a fanatic missionary nurse (Penélope Cruz) and a pretty governess (Daisy Ridley), among others. There is a major plot twist, which probably most of you know, but I won't give it away.
The film 40 years ago had an all-star cast and used them well. It saddens me to see how Hollywood's idea of stardom has been diminished. Dr. Arbuthnot in the first was Sean Connery; here, it's Leslie Odom Jr. The governess was Vanessa Redgrave; here, Daisy Ridley. The missionary was Ingrid Bergman (who won a rather undeserved Oscar for the role); here, Penélope Cruz. Richard Widmark was Ratchett; now, we have Johnny Depp; the secretary was Tony Perkins, now Josh Gad.
That film used the celebrities' past roles to flesh out the characters and was an intimate character study. That Poirot (Albert Finney) played up some of his character's peculiarities but mostly played the straight man.
This film should've been called "Poirot, his Mustache, and a Murder on a Train." Director Branagh constantly focuses on Poirot, making his role far more important.
Several of the suspects seem to almost blend into the scenery. In the 1974 movie, the final scene is on the survivors chatting and relieving tension. In this one, it is Poirot, all alone at a railway station, heading for another case.
The film moves more quickly than the previous one and spends more time out of the train as a way of avoiding the claustrophobia that could hamper the sense of being in a movie. There are more quick cuts but less time on deep acting.
The actors are all quite good, even if they're overshadowed by Branagh. I particularly liked Michelle Pfeiffer, who did get a chance to do some real emoting, even if only briefly. She had a good monologue near the end that was exceptional.
But a few of the others had fairly brief scenes that limited what they could do. Willem Dafoe, who is a really strong actor, was almost invisible. Unfortunately, the part of Dr. Arbuthnot was just not realistic, although Odom really worked hard to pull it together.
One of the problems in movies like this is that often the writers hold on to secrets that the audience discovers only when the case is finally solved. There is a bit too much of that in this movie. But I did enjoy the film far more than I thought I might. I recently saw the older movie and enjoyed it enormously. This film is different (although the basic plot remained the same, as I noted above) but also focused on the notion and meaning of justice. Eventually, Poirot faces a dilemma in terms of moral vs. legal justice.
There have not been many fun films that are actually more or less realistic these days, with our preoccupation with superheroes. This film is far quieter than last week's Thor: Ragnarok but has its own pleasures. Watching good actors handling an interesting murder situation can provide a nice few hours. I liked it, and I think you will also.