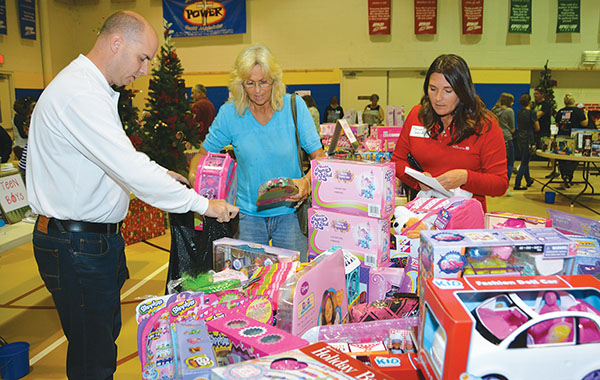 The Village of Wellington's ninth annual Hometown Holiday Toy Drive is underway, and people are able to donate toys and participate in the drive through Tuesday, Dec. 19.
"I think that Wellington is a community that really gives back, and the holidays are a great example of that," said Liz Nunez, the village's public information officer. "Last year, we know in total we served 350 children. For this year, we have 412 on our list."
It's a tall order, but Nunez believes that the village and its residents will rise to the occasion.
Wellington Interfaith continues to be the constant partner of the toy drive, helping to garner community support for the annual village effort.
"Every year we give to children, whose parents express a need to their faith-based organization, and that's how we start the list, and then we get the list from these other organizations," Nunez said.
This year, additional beneficiaries include the Neil S. Hirsch Family Boys & Girls Club and the local nonprofit Back to Basics. Children and their families involved with those local organizations will receive gifts from the toy drive this year.
Patients at the Children's Hospital at Palms West also will continue to be a part of the toy drive this holiday season. Dec. 19 is when toys will be delivered to Palms West Hospital. The toy drive will be assisting the Kids Cancer Foundation in Royal Palm Beach as well.
"When we go to Palms West and see these kids who are in the hospital and in a tough situation, especially during the holidays, they just light up," Nunez said. "To give them these gifts, it's just a wonderful feeling."
On Thursday, Dec. 21, parents on the list will be invited to St. Peter's United Methodist Church to pick two items per child. There will be a wrapping event for the toys at the same time. The event is by invitation only. Parents must register with Wellington's Community Services Department or their faith-based organization to participate.
Wellington Interfaith makes the decision for where any extra toys will be donated after the partnering organizations receive toys for the children and families they support.
"Last year, since we had so many, we gave each child two toys," Nunez said. "So, whatever is left over, Interfaith will keep, and they will determine how to donate that to different organizations that have a need."
The village expects November's food drive and December's toy drive to help more children and families than last year, marking another record total for people in need who are helped during the holiday season in Wellington.
"We ended up giving some of the extras away to some other organizations in Palm Beach County," Nunez said.
As usual, the toy drive follows the recently completed annual Hometown Holiday Food Drive done in the village, which ended last week.
More than 200 bags were filled with everything needed to create a Thanksgiving meal, including a gift card for the purchase of either a turkey or a ham. The meals were packaged to feed families ranging from two to 12 family members.
The families also received their food at St. Peter's. Gift cards for the turkey or ham came from Wellington Interfaith, the Mall at Wellington Green and the Christopher Aguirre Foundation. All the food items were donated by residents, program partners and community businesses.
"We want to thank everyone who has participated in our food drive and who will participate in our toy drive," Nunez said. "We thank them for their support, and in keeping with our mission of giving back to our community."
This year's sponsors for the toy drive include the Mall at Wellington Green, Ultima Fitness, Schaefer Drugs, Wellington Wild, the Wellington Jingle Bell Run, the Christopher Aguirre Foundation and the Goddard School for Early Childhood Development.
Toy drive donations can be dropped off at the Wellington Municipal Complex (12300 W. Forest Hill Blvd.), Wellington's Village Park (11700 Pierson Road), the Wellington Community Center (12150 W. Forest Hill Blvd.), the Wellington Community Services Office (1092 Wellington Trace), the Lake Wellington Professional Centre (12133 Ken Adams Way), Ultima Fitness (12799 W. Forest Hill Blvd.) and local Palm Beach County Fire-Rescue stations.
Nunez said the annual effort to bring food and toys to families in the community is important to the village.
"Living in Wellington, we're very blessed to have the amenities that we have and all the great resources, but there are people who are in need," Nunez said. "And, I think during the holidays, we can really see how we're a community of neighbors, and we help each other."
Nunez said the parents are thankful for the opportunity the toy drive creates for their children during the holiday season.
"We're very glad to create this opportunity for our community to come together every year. We're really happy to work with our faith-based organizations, not only for this toy drive or the food drive," Nunez said. "This toy drive is one of our favorite things to do in Wellington, because seeing the smiles on these kids' faces, that is truly the best gift of all."
For more information, visit www.wellingtonfl.gov.