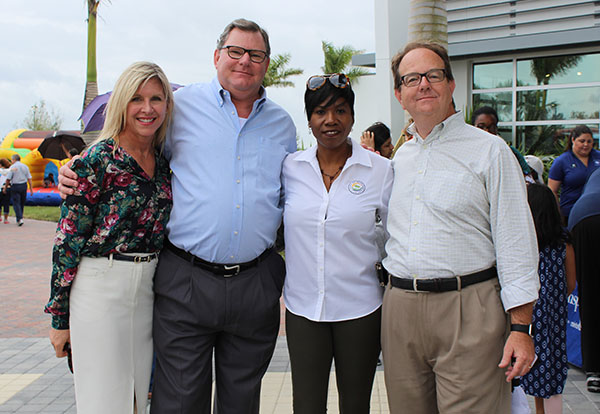 Minto Communities hosted the grand opening of its new Westlake community within its own newly established municipality on Saturday, Oct. 28.
Interested potential residents from near and far joined together at the interactive sales center to become informed about new homes in the community, as well as meet Westlake officials and Minto representatives.
Michael Belmont, president of Minto Communities, said the two key components instilled in the new community are affordability and lifestyle. He said prices for new homes start at $276,000, reaching up to $500,000.
"We want to have a vibrant and active community. We're going to provide amenities and a great lifestyle. As the retail, the town center and the employment centers come in, that will really make it a true community," Belmont said. "We're currently offering a 3 percent discount to civil servants, first responders, school teachers and the military. We also have a 3 percent down payment assistance program for those who qualify."
John Carter, a vice president with Minto Communities, is excited to see the start to a new community that has been in its development stages for many years.
"It's really exciting to see the extremely large amount of community interest to buy a home in Westlake," Carter said. "It's an opportunity for not only the residents who are going to live in the City of Westlake, but also the residents that live around us, to live, work and play — and that has been the whole notion of the fundamental planning concepts that have been put in place in this community."
Carter added that Westlake "has been designed so that it integrates into the fabric of the area that surrounds us."
Along with Minto, the new Westlake community will be governed by its own council.
"I'm excited today. We have a lot of people who have come out to purchase homes. There are a lot of families out with their children," Westlake Vice Mayor Katrina Long-Robinson said. "So, we're excited about this because we know this, of course, is a city of innovation, and we're going to bring innovative things to our city: jobs, families and things of that nature."
During Saturday's event, rain didn't scare community residents away from coming to the interactive sales center. The guests enjoyed food, games and activities the celebration provided.
Once the visitor parking lot filled up, which happened almost immediately when the event began, people were directed to park on the grass next to the lot. Cars continued filing in, with families, community leaders and business leaders getting out to see the plans for the new community.
"It has been a long time, and we knew that this would be a pretty crowded event, but I'm surprised it's this crowded," Belmont said. "We were worried about the weather, but so far so good."
The community is located on Seminole Pratt Whitney Road, between Southern Blvd. and Northlake Blvd. For more information, call (844) 861-5833 or visit www.westlakefl.com.