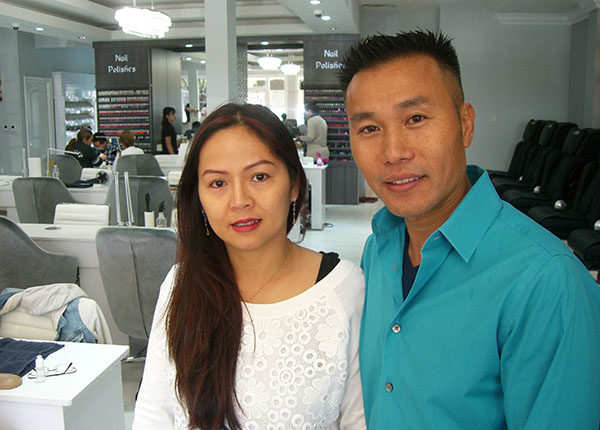 California Nails has been located in Wellington's Town Square plaza for a decade, but recently the well-known nail salon and spa doubled in size by taking over the space next door.
The expansion has allowed owners Tom Dinh Phan and Vivian Vo to add a number of services for their clients they didn't offer before. However, just like before, the focus remains on excellent customer service.
Tom and Vivian came to Wellington 10 years ago, after running a nail salon in Ohio for 10 years. They have established themselves as innovators in the day spa industry.
"Women care about how they look, and when they look beautiful, they feel confident," Vivian explained. "Women have a lot of stress in their lives, and they need some time away from their children and husband. When they come here, we pamper them, and we are a stress reliever for them."
Vivian added that she is seeing an increase in the number of men who seek out the services they offer. "Men like to pamper themselves, too," she said.
The pampering includes complimentary wine, coffee, tea, cookies and other treats. The salon is looking into adding a ladies' night, a family day spa package and a rewards club for frequent clients.
In addition to nails, manicures, pedicures and collagen glove skin treatments, California Nails also offers microblading, eyelash extensions and even tattoo removal.
Many of the services require extensive training for the technicians. Vivian explained that for both the microblading and tattoo removal, she had several days of intensive classroom instruction, followed by six months of online tutelage.
The tattoo removal uses a solution, rather than lasers, and Vivian said she had to perform the procedure on six test cases before she received her certification.
She is certified by the European Grand Master Branko Babic in microblading, and is the exclusive provider of the PhiBrows microblading process in the area.
Microblading is a form of semi-permanent makeup that partially or fully camouflages missing eyebrow hair using fine deposits of cosmetic tattoo pigments. It's called semi-permanent because over time, the strokes can blur and fade, which needs to be refreshed from time to time. "It's natural-looking," Vivian said.
California Nails also offers the opportunity to have the microblading removed. It's called PhiRemoval. The process utilizes a similar process that's employed in tattooing and micropigmentation. The tattoo extraction formula starts working almost immediately, drawing the original tattoo ink upward through the skin. A scab with tattoo ink will be formed over the treated area.
While the skin heals, even more unwanted tattoo ink will be drawn out. The scab will peel off naturally, extracting the unwanted tattoo ink. A secondary scab containing even more tattoo ink is likely to form. After the procedure, and as long as there is a scab on the skin, the treated area needs to be kept dry.
Eyelash extensions are employed to enhance the length, curliness, fullness and thickness of natural eyelashes, and are very different than traditional false eyelashes.
Collagen gloves are also available to enhance a manicure. Vivian said the collagen helps to soften and moisturize the skin, and an added benefit is that it helps protect and rejuvenate the skin from ultraviolet light damage.
California Nails has two rooms where these services can be performed. One room has a padded leather examination chair inside, while the other has two chairs for clients to receive the different treatments.
Tom and Vivian have made sure that the entire business is kept perfectly clean and has plenty of lighting. "We want everything to be clean and sanitized," Tom emphasized.
Vivian agreed, inviting members of the community to come see the newly expanded salon.
"It's so pretty now, and we want the customers to come and see the improvements we've made," she said.
The business has 15 employees, and six of them are relatives of the owners. "This is a family business," Vivian said.
The family aspect to the business means that clients are dealing with people who are invested in making them happy. "When the customer is happy, I am happy," Vivian explained.
The recent expansion took one year to complete and included a substantial financial investment, but Tom and Vivian believe it was all worth it.
"We want people to come in and see the improvements we made," Vivian said.
The prices for services at California Nails are average for the industry, but the personalized service and pampering by the well-trained staff make it an excellent value.
California Nails is located in Wellington Town Square at 11924 W. Forest Hill Blvd., Suite 34. For more information, visit www.californianailswellington.com or call (561) 791-0990.