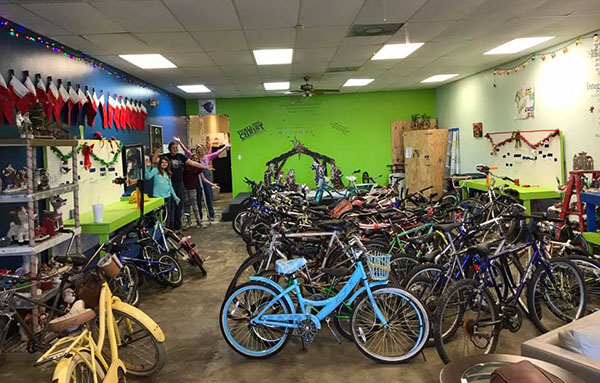 Folks from The Acreage brought an early Christmas present to the kids of Belle Glade this month.
Over the weekend of Dec. 16 and 17, bikes were collected by Kristen Polacik at the community bazaar for JTK Bike Shop, which is run by Dawn Donaldson.
The shop is a nonprofit that is single-handedly run by Donaldson — who is retired from the Palm Beach County Sheriff's Office — with the aim to give kids a safe place to learn mechanical and life skills.
"Through bike donations, the kids put hours in fixing bikes, and then with volunteer reward hours, can 'buy' reward bikes," Polacik said. "Also, every Friday and Saturday she cooks for the kids, so they can have a family dinner."
The shop is currently selling the bikes the kids fix in order to bring in money for field trips and operational costs, Polacik added.
Garrett Brooks of The Acreage, owner of G&L Banana Seats Bicycle Shop, saw a Facebook posting that Polacik would be collecting bikes at the community bazaar.
Garrett connected with Yvonne Moritz of Horses that Help to donate more than 100 bicycles. The bikes were delivered to Donaldson in Moritz's horse trailer.
The kids celebrated the donations at their Christmas party on Friday, Dec. 22. They decked the bikes out with lights and music for the inaugural Christmas Bike Ride through the southwest section of Belle Glade to spread the spirit of the season throughout the community.
The JTK "Jesus The King" Bike Shop is located at 233 W. Avenue A, Suite B, in Belle Glade. For more information, call Donaldson at (561) 312-8575, e-mail dbdonfire@aol.com or find them on Facebook.