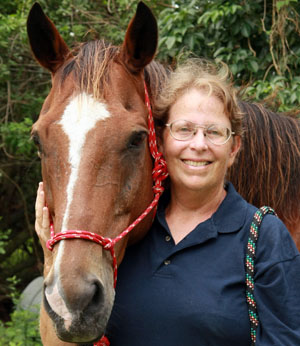 TALES FROM THE TRAILS
The weather and setting were picture-perfect for the Anne Gribbons clinic held the weekend of Dec. 2-3 at IDA (International Dressage Academy) Farm in Wellington's Little Ranches neighborhood. The blue sky sported puffy clouds, and a delightful breeze underscored the 80 temps. More than 60 auditors sat around the covered arena where Gribbons worked with the riders, seven each day, who entered the arena as the previous rider finished.
A native of Sweden, Anne was a member of the USET PSG-Intermediaries squad at the North American Championships in 1985, the World Championships in 1986, and the Pan Am Games silver medal team in 1995. Among other honors, she served on the FEI Dressage Committee from 2010 to 2013 and was North American representative to the FEI World Cup Committee from 1994 to 1997. A licensed USEF Senior judge and an FEI 5* judge, she has officiated at numerous CDIs, Olympic and Pan Am trials. In 2013, she was inducted into the USDF Hall of Fame.
Carolyn Goff on Dolce was Saturday's first rider. Anne guided the pair through a series of zig-zags at the half pass as a way to improve their balance, ending the 45-minute session, as always, by asking Carolyn if she had any questions.
After the ride, Carolyn, who boards at IDA and trains daily with Holger Bechtloff, reflected on the experience. "Anne's a renowned clinician and international judge," she said. "I've heard her name for years and years. I was honored when she purchased my last horse. Today's ride was fun and exciting. Dolce managed the change in routine well. I was pleased with what we accomplished. The knowledge and insight I gained will improve my riding."
There were some things that surprised her about the experience.
"Anne sees all, the strong and weak points. I was surprised she worked more on my position than anything," Carolyn said. "One thing we'll definitely work on is downward transitions, which have to be more crisp and clear. Dolce has to respond faster. I'm giving her too much time. Anne helped me refresh some of my riding goals. I'm excited to get back to work with Holger and show him what I learned. There's a lot to process."
Auditor Gilda Amster of Wellington boards at IDA. "I love watching clinics," she said. "You gain a lot of insight, especially from someone like Anne. Hearing things in different ways helps me understand it better. I'm going to try being more accurate in how I ask, and more fluid in my transitions."
Anne next worked with Heather Boo, riding her gelding Divertimento, whom she calls Timmy. "He doesn't understand balance," Anne advised, watching them trot. "You have to help him. Be very clear."
As they progressed to the canter, they, too, tried zig-zags. "Much better. He stayed with you. The horse always has to think with you. He cannot focus on other things. The balance and tempo must be steady and the same, so it looks easy. Don't continue if it changes, if you lose that feeling. Fix it immediately," Anne said. "When the rider stops riding, it confuses the horse. Ride each movement to the end. Always think ahead to the next movement. Your horse is wonderful, soft, willing."
In the passage, Anne tweaked Heather's position. "Lean back. Sit on your butt, like a man. When you lean forward, he hollows out his back," she said. "Keep your upper body perpendicular, sit still in the complete center of the horse. There, he just said, 'Oh, she's getting it.' Super! Walk and praise him."
Afterward, Heather was thrilled with her experience. She keeps Timmy, a 15-year-old Westphalian, at home in Three Bays Farm in Deer Run. "I bought him last January," she said, patting the tall bay. "I know our weaknesses, and Anne absolutely saw them. You can't hide anything from her. I was excited to have her eyes on us, digging into our issues. I'm overwhelmed at having the opportunity to ride in a clinic with such a highly respected international judge."
She felt the experience was very useful.
"She had some helpful advice," Heather said. "As soon as I corrected my position, I felt the difference. Timmy's the most wonderful horse, a real collaborator. He's always looking to do the right thing. We have a great relationship. At home, we just hang out. He's my buddy, the reason I open my eyes every morning. The first thing I think of is Timmy."
Sophie Ghedin of Wellington also audited. "Anne's great," she said. "She breaks down every movement so you understand it better. She goes back to the basics. I like how calm and specific she is. Watching a clinic with her is mind-blowing. I'm going to try the canter zig-zags with my horse."
During the lunch break, riders and auditors enjoyed the provided lunch at tables set among the vendors' displays.
"One important point I want them to remember is that horses learn from praise and repetition," Anne said. "You must give the horse a break immediately after he does something well, so he'll look forward to that. Punishment or roughness only adds tension and fear."
She was quite pleased with the event.
"This was my first clinic at IDA. It has been fun and beautifully organized," Anne said. "The riders are very competent and clear-headed. The horses are exceptional, but each has something which can improve. I like to help the riders with those weaker areas so they go away having learned something."
Clinic organizers Randee Leoni and Renee Isler also thought the clinic had gone well.
"We hope to have Anne back again next year," Renee said. "We'd also like to host more events like this in the future. This venue is perfect. We have 25 acres, two covered arenas and three outdoor ones, with lots of room for dressage and jumping. We're also considering holding some schooling shows during the season. IDA is a friendly, convenient venue."
For more information about IDA Farm, visit www.idafarm.com.