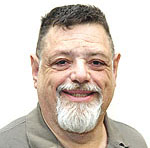 'I' ON CULTURE
I went to see the new movie Lady Bird after noting that it was a rarity on the Rotten Tomatoes web site. It scored a perfect 100 percent rating from critics all across North America.
At first I thought it was about Lady Bird Johnson, our former first lady. But, no, it's all about the coming of age of a young woman in Sacramento in 2002. It does have a lot of charm, but it really never goes anywhere.
Christine MacPherson (Saoirse Ronan) calls herself Lady Bird for no reason that is ever given. It might be a passive/aggressive blow against her mother or it might be her own feelings or it might come from the old poem, "Lady Bird, fly away," since her one real desire is to get out of Sacramento and go to college on the East Coast. Since she does not have very good grades, it looks like a long shot. Added to the challenge are her family's financial problems.
The film looks at Lady Bird's final year in high school. She battles constantly with her mother, Marion (Laurie Metcalf), who is tough, particularly when it comes to spending. Her father, Larry (Tracy Letts), loses his job, which only exacerbates the situation. The problem is further complicated by her family's adoption of two children, one of whom, Miguel (Jordan Rodrigues), winds up competing against his adoptive father, successfully, for a new job.
As a result, Marion constantly baits Lady Bird about her lack of effort and downplays her daughter's dreams of getting out of the area. The family literally lives on the wrong side of the tracks, and Lady Bird dreams of moving up.
At her Catholic high school, where some of the best bits in the movie play out, she is a bit of an oddball, having out with her best friend Julie (Beanie Feldstein). She joins the drama club to win extra bits for college and starts dating.
Her first boyfriend Danny (Lucas Hedges) seems perfect: He's sweet, very respectful and very well-off. She soon finds out that he is not the boy for her and turns to the school's really good-looking bad boy Kyle (Timothée Chalamet) who is more giving but who shatters a lot of her perceptions.
But the real focus is on her desire to get out. She has to go behind her mother's back to get the financial aid forms ready and makes a waiting list for an unnamed New York college. Her father, a longtime alcoholic with a depression program, provides her main support.
First-time filmmaker Greta Gerwig, who both wrote and directed the film, has described it as semi-autobiographical. A lot of the film rings very true, and Gerwig wisely does not turn the Catholic school experience into a horror. The priests and nuns are remarkably supporting. Sister Sarah Joan (Lois Smith) is a delight as she proctors a school dance, separating the clinging young bodies with the phrase, "Leave six inches for the Holy Ghost," and she is great after being the victim of one of Lady Bird's pranks.
The problem is that the movie seems to go nowhere. It is all charm with no real point. Lady Bird's year is not all that interesting, although there are a few high points. I really liked the scenes at the prom. But there are all sorts of loose ends and hanging threads. The family is poor but adopted two children. A priest seems to have a problem but, after describing it, is just gone from the film. There are characters who seem to come and go with no real point to them.
Ronan is really good, not surprising for a young actress already twice nominated for Oscars. Metcalf is even better as her mother. Even as she stomps on her daughter's aspirations, you can see how she hates doing it. Letts was good, and so was everyone else in the cast.
The problem is that in the season when a lot of top movies, ones heading for the Oscars, are coming out, this one simply goes nowhere. This is why those cumulative ratings are not always helpful: This is a nice little film but nothing terribly special.
The acting is great, but there is no real drama. As a break from all the big movies, this one can be a nice little treat. You will enjoy it but not be enthralled.