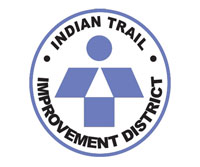 Indian Trail Improvement District will be very busy in 2018 on issues including road and culvert improvements, the selection of a new district manager, completion of the Acreage Community Park expansion and seeking to improve relations with Palm Beach County.
"There are goals that I want to get a consensus on from the board, and what the community wants," newly appointed ITID President Betty Argue told the Town-Crier on Tuesday. "[That] would be completion of the park and improvement of our roads. Maintenance has been extremely difficult because it was a lot wetter than normal, so we have to replenish road rock material on many of our roads. Our goal is to get that done this year and make our residents a little bit happier in terms of road maintenance."
Also on her mind is the selection of a new district manager, which is scheduled for Wednesday, Jan. 24. Argue praised the work of Operations & Maintenance Director Rob Robinson, who has been serving as acting district manager.
"I hope that we can find somebody who has comparable qualities as him," she said. "He has the field work experience as well as the administration experience, not at this level, but he is doing an amazing job at it."
She explained that Robinson had put his résumé in for consideration as manager, but later withdrew it.
"If you have a strong district manager, then I think we'll start to see some good changes for the community," Argue said. "If you have a strong district manager and a strong operations and maintenance manager, then it starts to set the tone on down the line for the rest of the staff, and what our expectations are in working toward our goals."
Argue also wants to focus on infrastructure improvements, especially on culverts, and developing an in-house team to do the work, rather than outside contractors.
"We have a lot that needs to be done, and that's something that you're going to see in the next couple of months," she said. "Rob Robinson is going to be bringing some proposals to the board in terms of cost comparables. I'm looking forward to that, because I do believe that the cost of us doing work in-house is a fraction of what it would cost to contract out."
She also looks forward to being more proactive with the Palm Beach County Commission in advocating for more investment in the community by the county.
"That's something that has been lacking, and our community has been upset about it for a long time," Argue said. "We need to start making some changes in that regard, and the only way to do that is to start talking with the county and working with them advocating for those changes."
She also wants to start looking at long-term projects such as the 640 acres offered by GL Homes for use as a stormwater catchment area.
"I think that we have great potential if we use the property… where we essentially seek state funds to help benefit the whole community," Argue said.
She also looks forward to Palm Beach County Days in Tallahassee on Jan. 9 and Jan. 10, where board members will continue their efforts for the completion of State Road 7 to Northlake Blvd. and completion of the levee separating ITID from the J.W. Corbett Wildlife Management Area, which is kept at a higher water level.
"We are continuing to seek the rest of the funds that are needed to do the Corbett berm, although the amount that we originally needed, $4 million, it looks like we have got $3.2 million of that, so we have a shortfall of about $800,000, which is a lot easier to lobby for than $4 million," she said.
The board will also advocate for continuation of a pilot drainage project initiated two years ago at the Moss property owned by the Florida Fish & Wildlife Conservation Commission.
"I think that we're seeking some more dollars to help us fund that project," Argue said. "That would be in dehydrating the Moss property, but would also give us additional drainage to send our water to the Moss property rather than out to sea. That's something that's very positive environmentally."
She also wants to advocate for passage of a Senate bill that currently has no House companion that would change the process for a special district trying to incorporate, making it more difficult than the process that the Seminole Improvement District used to incorporate as the City of Westlake.
"That's something that we want to advocate for because we know better than anyone what the impact has been," she said. "It was abused by Minto and the City of Westlake, so this bill would essentially prevent that from happening. You would have to have a minimum population rather than a projected population… to make it more in line with the incorporation statute."
She also wants to get a head start in the coming year on setting legislative priorities and meeting with the Palm Beach County Legislative Delegation prior to the legislative session.
"We could actually go before them and talk about what our priorities are," Argue said. "We really didn't do that. We were consumed dealing with multiple other things, and that never made it to the agenda, so the delegation meetings came and went. I spoke about this at the last meeting, that this year we will have learned from that experience."