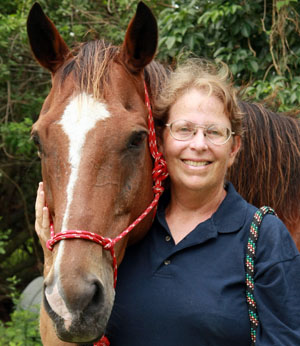 TALES FROM THE TRAILS
Spectators had a grand time at the seventh annual Arrigo Dodge Ram Rodeo held Nov. 10-11 in the covered arena of the Kubota Agriplex building at the South Florida Fairgrounds.
Rain had been heavy and frequent during the week, but the weather seemed to be cooperating on Saturday. Then, an hour or two before the gates opened, the clouds closed in. However, the fast-moving showers cleared, and the stands slowly filled, people dodging puddles and holding onto their hats as the breeze picked up.
Jason Stanley, from Calhoun, Ga., was on hand, along with his son, Logan. The two of them work as bull fighters. "We protect the cowboy," Jason explained. "After the cowboy comes off the bull, our job is to keep him safe. We get between him and the bull and make ourselves a more inviting target."
It's not the safest job in the world, but Jason loves it. "I've broke several things, everything you can imagine," he said. "I grew up rodeoing. Never did anything else. We go everywhere, from here to California to New Mexico. I've been doing this for 21 years. But now, I'm getting to that stage, I'm about ready to turn the job over to my son. I'm showing him the ropes, getting him some exposure, getting his name out there. I'm about ready to sit back, relax some and watch him."
At 17, Logan is more than ready to take over. "I been bull fighting about a year," he said. "I like doing it, being on the edge of chaos, and trying to control something uncontrollable. I haven't broken any bones… yet."
Bull rider Cris Smart, 18, hails from Wesley Chapel, Fla. "I started following the rodeo circuit when I was 8," he said. "Then, after my grandma died, I quit for a few years. My heart just wasn't it in anymore. But last year, I came back. I decided I'd keep going and try to make her proud instead of backing down and quitting."
Dalton Morris is a rodeo clown from Odessa, Mo. "I've been doing this almost 20 years," he said. "I like traveling to different places every weekend, and meeting new people. There's all kinds of rodeos. Some are more laid back. This one's more of a party town."
Dalton entertains the crowd between rides and does rope tricks. He also helps distract the bull if there's a problem. "I been hurt a bunch of times," he said. "Mostly bruises, nothing serious. That's me. The funny guy."
Tamara Bursey, from Lantana, attended, along with her husband and two grandchildren. "This is my first time at a rodeo," she said. "I'm looking forward to watching the barrel racing."
Bobbi Gilligan from Lake Worth was also attending her first rodeo. "I'm so excited," she said. "I don't know a whole lot about it. I have no idea what they do. Ride horses? Bulls? Calves? I like all the activity. It's definitely a lot of fun. I guess I'll learn. I just hope no one gets hurt."
Carol Welbourn of West Palm Beach has attended lots of rodeos, many down in Davie, where she used to live. "I like the bull riding," she said. "It's a real adrenaline rush… The longest eight seconds ever. Rodeos are a true American game."
Outside the tent, rain squalls came and went, and the wind frequently gusted, blowing fine sand across the arena. Outside, the horses and bulls waited patiently in their pens. Sarah Anderson of Pahokee sat her mare, Sassy, a four-year-old Palomino, waiting for the barrel racing.
"I've owned her since she was one day old," Sarah said. "She has been doing barrels for two years, so she is still learning. I train all my horses. I like the speed of the sport, and the bond I have with my horses. You really have to connect with your horse to put in a winning run."
Riley Riddle was waiting for the bull riding. "I also ride bucking broncs, but I prefer bulls," he said. "They're both equally challenging. With bulls, you try to stay centered and keep your balance. With horses, you get into the rhythm of the bucks."
The rodeo proper, scheduled to begin at 8 p.m., got started a half-hour later. The event, sanctioned by both IPRA and SPRA, included saddle bronc riding, barrel racing and bull riding.
The show began with a demonstration ride by the local Outsiders Drill Team. A young girl sang the national anthem, and a prayer was offered. Since it was Veterans Day, there were many American flags, uniforms and military references. The saddle bronc riders went first, with some staying on the full time and some coming off.
A trick rider made a few passes, her long blonde hair flying as she stood or hung from her horse as it galloped around. Then all the youngsters were invited into the arena for a dance contest. There were a ton of kids of all ages. This rodeo is a true family event. Some of the kids watched avidly, perhaps dreaming of one day taking part. Others entertained themselves by building sand castles in the sandy floor outside the arena rails.
Ram trucks drove around the arena, and Hooters girls and others were throwing John Deere ball caps and Hooters frisbees to the crowd. The ring got dragged, and the barrel racers made some fine runs, with one woman posting a time of 12.951 seconds. Sarah and Sassy didn't make the top three. Then came the bulls, who were so good at their craft that not one rider managed to stay on.
All in all, a fun time was had by all. And if you missed this rodeo, not to worry. Another one is scheduled for the fairgrounds in March. Be sure to bring the whole family.
For more information, visit www.doublekrodeoproductions.com or call (205) 790-3452.