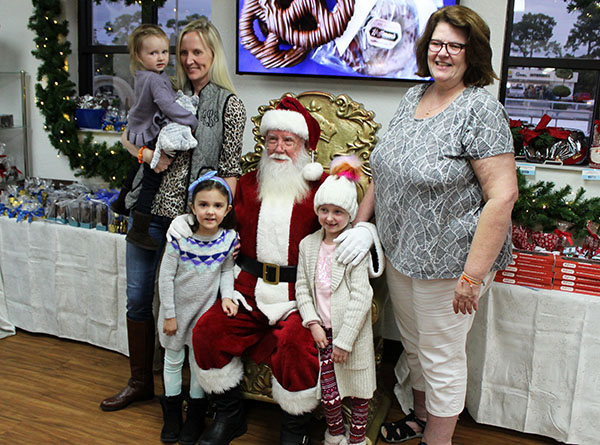 The holiday season is a special time of year, but it's especially magical for children. Some kids, though, need special help.
In the past year, 7-year-old Emma LaPaglia has dealt with the separation of her parents, losing her home and being diagnosed with cancer.
A number of organizations and individuals have stepped up to ensure that Emma and her two sisters — 4-year-old Piper and 2-year-old Dylan — will have a merry Christmas.
Emma was diagnosed with pre-B acute lymphocytic leukemia (ALL) last May, and her mother, Ashley LaPaglia, is now on her own caring for her three children.
The LaPaglia family live in Wellington, but their future was looking bleak. "I can't work because I am caring for Emma and her sisters, so money is tight, but I do have a great support system," Ashley explained.
The Kids Cancer Foundation became aware of Emma's situation and connected the family with the Admirals Cove Foundation.
On Wednesday, Dec. 6, Ashley received a $9,200 check from the Admirals Cove Foundation's "A Season to Share" program.
The money will go toward three months' rent and a security deposit on an apartment for the single mother and her three children. Admirals Cove also has agreed to pay for their utilities and phones for an entire year.
The two foundations have also reached out to the community to help ensure that Emma and her family have a magical holiday season. "This is great, because I don't have to worry about Christmas presents this year," Ashley said.
On Saturday, Dec. 9, Emma joined other kids battling cancer at Hoffman's Chocolates, which hosted an exclusive event for them at its Greenacres factory location.
Hoffman's partnered with Neighbors4Neighbors — a Miami television station's community outreach program — this holiday season to support the organization's "Adopt a Family 4 the Holidays" initiative.
"Each of the nine Hoffman's stores and corporate headquarters adopted a family in need," explained Michelle O'Boyle, founder and executive director of the Kids Cancer Foundation.
The company's Palm Beach stores adopted their families through the Kids Cancer Foundation. The managers of each store took their team of employees out for a day of shopping to purchase gifts from the adopted family's wish list.
"We hope to be able to make this holiday season an unforgettable one for both our staff and the families," said Lois Marino, director of community engagement for Hoffman's Chocolates.
Emma, and her family, joined other families with children battling cancer at the event, where Santa gave each child a Christmas present and everyone enjoyed chocolate, confections and ice cream.
"I am so thankful for the Kids Cancer Foundation and all they have done for my girls," Ashley said.
Ashley added that Emma is facing another two years of chemotherapy, and she goes to the hospital every 10 days to receive her treatments.
"I cannot say enough about the wonderful people at the Children's Hospital at Palms West. Dr. Melissa Singer [her pediatric hematology oncologist] along with Patty, Maryann and Michelle [nurses in the pediatric infusion unit] — all of them have been absolutely amazing. It's incredible what they do for us, getting us anything we need from blankets to food," she said.
Emma has been upbeat and positive as she faces a years-long battle with leukemia, along with dealing with family's other struggles.
When she was told of her diagnosis, she turned to a room full of doctors, nurses and family and said, "I don't know why all of you look so sad. I know I am going to be fine."
Rebecca Divine, executive director of the Admirals Cove Foundation, wanted the focus to be on the kids and their families. "Thank you for spotlighting Emma and her family," Divine said.
O'Boyle, however, gave kudos to Admirals Cove. "It is because of organizations like the Admirals Cove Foundation that the Kids Cancer Foundation is able to help make the journey battling childhood cancer a little easier for young patients, like Emma, and their families," she said.
The money will allow Ashley to give her children a permanent place to call home, and the presents will allow them to experience the magic of the holiday season, although in a much deeper way than most children will ever experience.
"It's a horrible thing that happened, but we have seen the good in people," Ashley said. "We have absolute strangers doing these incredible things for us."
It was touching to see Emma and her sisters playing with their toys like any other kid while knowing she is facing the toughest battle of her young life.
For more information about the Kids Cancer Foundation, visit www.kidscancersf.org or call Michelle O'Boyle at (561) 371-1298.
Learn more about the Admirals Cove Foundation at www.admiralscovefoundation.org and Neighbors4Neighbors at www.neighbors4neighbors.org.