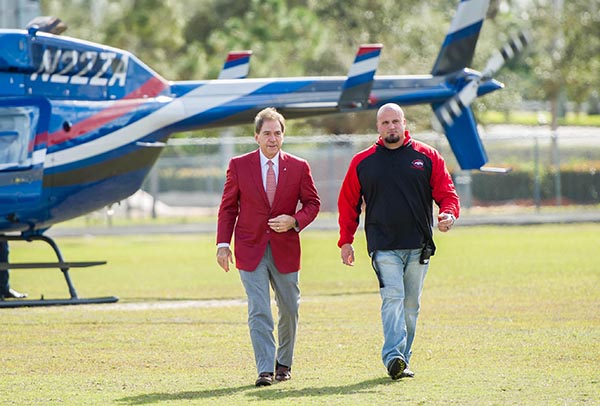 Just days after winning college football's national title, University of Alabama head football coach Nick Saban paid a visit to Palm Beach Central High School via helicopter Tuesday, Jan. 16.
Saban landed right in the center of Bronco Stadium at 10:45 a.m., while the Broncos football squad looked on, recording Bronco head coach Tino Ierulli's greeting.
"He was awesome," Ierulli said of Saban. "He was just down-to-earth, like a people person. I was excited. I'm a grown man and a coach — it was exciting for us."
Ierulli greeted Saban in midfield as he exited the helicopter, and the two walked through a corridor of football players star-struck by the legendary coach, who now has six national titles to his name.
The reason for the visit was no secret. Saban has interest in at least three of the Bronco players: junior defensive back Akeem Dent, who is verbally committed to Florida State University; junior lineman Renato Brown, a University of Miami commit; and sophomore receiver Bryan Robinson.
Saban is not permitted to directly meet with the players due to NCAA regulations, but he met with coaches at the school during about a 30-minute visit. "We were in the principal's conference room," Ierulli said. "It was great. He was telling us about the national championship."
Both Dent and Robinson did receive offers from Alabama late last year. "They can't meet with them or talk to them, so I'm sure them knowing that he was here, I can only imagine how excited they were," Ierulli said.
Ierulli explained how quickly the visit developed. Alabama recruiter Joe Pannunzio, who oversees the Florida area, informed Ierulli that Saban was interested in visiting. Ierulli coordinated with Raymond Atkins, Palm Beach Central's athletic director, as well as Principal Darren Edgecomb and the Palm Beach County School District.
"They knew what to do for this type of stuff," Ierulli said. "We have great support, and our principal is phenomenal. They agreed that this was great for the school."
Ierulli believes that the visit will motivate the up-and-coming players. "It says a lot about the direction we're taking the program," Ierulli said. "It's all because of their hard work."
Ierulli added that his program also pushes academics to open up more doors for the players. "The one thing we always preach is to keep your grades right," he said. "Your grades are what's going to open up more opportunities."
Some of the players believe Saban's visit, as brief as it was, motivated them to work harder on the field and in the classroom. "It's a good feeling. I'm very excited about next year," junior quarterback Michael Moreland said. "It actually brought me confidence."
Junior running back C.J. Stewart emphasized Saban's visit as an honor. "It's an honor just to have him here," he said. "It just makes me want to work harder and show him something."
Ierulli said he is open to future visits from Saban and explained how the relationships between coaches resembles that of a fraternity; "I asked him when I could go up there," Ierulli said, smiling.
Signing is almost a year away, as the Class of 2019 prepares for one more high school season, but the excitement is sure to build in the meantime.