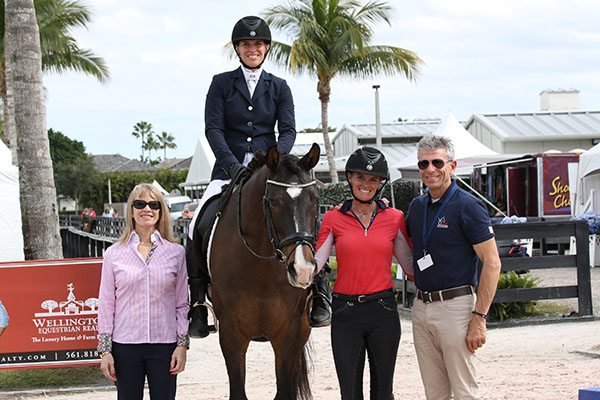 By Betsy LaBelle
Rebecca "Becca" Hart of Wellington has become an international star in para-dressage. Her energetic personality and dedication to both her job at Starbucks and her goals to compete at the highest level in her sport keeps Hart busy.
Hart works full-time as an opener at Starbucks on the corner of Wellington Trace and Forest Hill Blvd. "I am there at 4:30 in the morning," she said. "Usually, I am working until about noon, and then I go do my horses after."
Originally from Pennsylvania, she thrives in the community of Wellington.
"There are two sides to this community, the equestrian side and the really great family atmosphere, all prospering together. It's that marriage of the two that is unique to Wellington, and the only place like it in the world. I moved here specifically for that horse community. Fortunately, I also work for Starbucks. So, I get to see both sides of the community," Hart said.
It's something that she truly enjoys.
"It has been absolutely fun, and I've gotten to know people I met through my job at Starbucks and invited them to come watch me at the competitions," Hart said. "It has been an absolute pleasure to be in Wellington for my own professional goals to compete during the winters with the phenomenal facilities, and opportunities for training, which makes all the difference. And it's just a wonderful place to live. You can take an evening off and go to the ocean, or there are just so many other wonderful things to do. It's a wonderful place to call home."
Born with familial spastic paraplegia, a genetic disease that causes muscle wasting and lack of control from the waist down, Hart continues to inspire everyone with her huge heart. A three-time Paralympian (2008, 2012 and 2016), she finished the Rio 2016 Paralympic Games in ninth individually, seventh in the musical freestyle and fifth with the U.S. team.
Recently, two international FEI Para-Dressage CPEDI3* qualifying competitions took place at the Adequan Global Dressage Festival with great success. Hart and her mount El Corona Texel, known as "Tex," won their division during Week 1 and Week 3 with scores of 71.912 and 74.444 percent. These are scores that make them competitive on the world-class international level.
Para-dressage is one of eight disciplines equestrians are practicing in Wellington to qualify to represent their countries at the 2018 World Equestrian Games, which are set to take place in September in North Carolina.
These were the only two international para-dressage competitions taking place in Wellington this year. The rest of the qualifying competitions for the para-dressage riders will take place in North Carolina in April and July.
"I've been in the last three Olympics," Hart said. "My very first one was in Hong Kong in 2008, then London in 2012, and recently Rio in 2016, and hopefully with Tex, we will get to do 2020 in Japan. Though, this year, we are working toward the World Equestrian Games."
They will travel to North Carolina to take part in the two additional qualifying competitions.
Since 2008, Hart has earned six USEF national championships, earned a fourth-place finish at the 2008 Beijing Paralympics, represented the United States at the 2010 Alltech FEI World Equestrian Games and was champion in 2011 at a CPEDI3* in Australia. She was only one spot away from earning a medal at the 2008 Beijing Paralympics.
Only together for the past five months, Hart and her team have a whole new strategy for the upcoming World Equestrian Games, and then preparing for 2020.
"My personal team is amazing. I have a brand-new structure around me, and it's exciting for me to have that support and to get some new insights," Hart said. "Rowan O'Riley is my horse owner and sponsor, yet she has been supporting and developing the high-performance para-sport program for several years now. She is an incredible asset to our program and the U.S. team."
Based out of a farm in Wellington, Hart's latest horse Tex is owned by a great dressage supporter. "It's an absolute honor to ride this horse, and I wouldn't have the opportunity to have a horse of this caliber without the support of Rowan O'Riley, who is dedicated to the continued development of the para program," she said.
The standards at the FEI level and the quality of the training on the horse are the highest standard in the world. There is no cutting those standards. The level of the way of going of the horse has to be at its highest. "You really have to have a relationship with the horse," Hart said. "And that can take months and even years to really come together. You develop a bond with your partner out there. They really trust you. It's the only way you get a better performance, and the relationship shines right through."
Michel Assouline, the new team coach of the U.S. Equestrian Para-Dressage Team, has come over from England to help the U.S. win. The former 12-year British team coach with the most gold medals ever brings training insights and new strategies for a successful future.
"Becca is an inspiration, and people want to help her. These athletes, they have a love of the sport. The sport gives them a better life. It's really something extra for them," Assouline said. "The para riders develop a sixth sense with their horses. Physically, they may have more challenges, yet there is always a way. They find the way. It's the good riding and good communication with the horse. If the harmony is near perfection between horse and rider, they get best marks. The judges are here to judge the same result, perfect harmony between horse and rider."
The sport has grown enormously in the last several years, Assouline said.
"A para-dressage horse now has to be as good as a top-level dressage competition horse," he said. "It's harder because an athlete with a disability has got to have extra abilities because they have challenges with their bodies. They are not, in many circumstances, as strong as able-bodied people. They overcome their circumstances."
Hart is excited about the future of her sport.
"We have a wonderful new program through Michel Assouline," she said. "We have a lot more feedback through the U.S. federation with statistics and scores. Para-dressage has been really growing as a sport. I've been in this sport since 1998, and to see the progression has been phenomenal. Everyone's goal is to bring home a medal at the World Equestrian Games. We are all actively pursuing the best strategy in order to do that."
Only working together for the last five months, Melissa MacLaran-Velix is Hart's home coach and trainer. She looks after the horse and aids Hart through any handicaps she faces. "She works with me and the horse," Hart said. "She lets me drag her all across the world to coach me, and she still likes me."
MacLaran-Velix said she enjoys working with Hart. "Being a part of this team is phenomenal. Working with Becca is amazing. I am new to the para-equestrian sport, and learning all the ins and outs is not easy — getting to know everyone and everything to get the right program for the horse and for Becca and making sure we set ourselves up for success," she said. "We have been putting ourselves into every single tight situation we can think of so that we know there are no more questions. We need to know exactly what to do in every single situation in preparation for the World Equestrian Games."
To follow Hart and her international medal performances, visit www.rebeccahartequestrian.com. To meet her in person, stop by the Starbucks at the corner of Wellington Trace and Forest Hill Blvd.