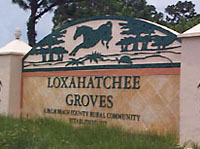 The Loxahatchee Groves Town Council approved added funding Tuesday, Jan. 16 for additional grading of 16 miles of badly deteriorated roads that the town took over recently from the Loxahatchee Groves Water Control District.
Residents have complained for months about the condition of former district roads that have been neglected through the lack of funding by the district, along with increased traffic as the town has grown.
The town, however, is in a difficult financial situation after the council was unable to pass a tax rate increase for 2018. Cleanup after Hurricane Irma added to the situation, at least temporarily depleting the town's reserves until it can be reimbursed by the Federal Emergency Management Agency (FEMA).
After listening to resident complaints, the council approved an additional $18,000 on top of the $15,000 the town budgeted for grading, although it will need about $600,000 worth of rock to bring the recently acquired roads up to grade.
Judith Ahrens complained about the condition of E Road and how dirt had been put down to fill potholes and recent rains turned them into a hazardous mud bog.
"The water hides the reality underneath," Ahrens said. "We can't solve the entire problem, but we can address part of it."
Equestrian Paul Mccrea said he is losing $3,000 a month due to the condition of B Road and clients' unwillingness to trailer their horses there.
"There's a hole big enough to put half these people in it," Mccrea said, referring to the packed room. "I'm embarrassed to say I live here. You're costing me money."
Mayor Dave Browning said seven loads of rock was scheduled to go on E Road on Wednesday.
Patricia Samet agreed that E Road is impassible for horse trailers. "I go down that road six times a day," she said. "We can't get our horses out. All I hear is there is no funds."
Browning said $600,000 went for debris removal after Hurricane Irma, which largely depleted the town's reserves.
Resident Phillis Maniglia, who is running for a council seat against Vice Mayor Ron Jarriel, said she traveled all the dirt roads recently to assess their condition.
"I was on every dirt road," Maniglia said. "This did not happen overnight. I don't want to hear about hurricanes. We were supposed to have the funds to take care of hurricanes. We need solutions, and we need emergency funds at this point. It has been neglected for years. You guys have been in charge a long time. You're hurting us."
William Bell said his road does not have substantial issues because he lives on a primarily residential street, and blamed the deteriorated roads on heavy vehicles such as horse trailers and commercial trucks.
"The ag properties actually pay less tax than my part of town," Bell said. "If you own a farm that has 20 stables, all these people traveling those roads are the ones who have the most traffic to personal properties. Isn't it reasonable that a farm… [should] have a fee charged per stable?"
Paul Coleman said the LGWCD allowed the roads to get in the condition they are.
"The town now owns this issue, but the roads were going to crap years ago," Coleman said. "It takes millions of dollars just to get it up to where we can pave it."
Jarriel led a discussion about grading some of the roads more than once a month, explaining that contractor Bergeron Land Development did monthly road assessments, and the town put about $600,000 worth of road rock down on the 26 miles of town roads.
"Before that, they were deplorable," Jarriel said. "Now, because we built them up, you can ride a town road."
He said the town has a new contractor coming on board to deal with the situation, and the town will hire a road assessment firm in February to focus on the 16 miles of problem roads.
Jarriel said about $600,000 worth of rock would be needed to restore the 16 miles of former district roads, and a plan is needed to build stormwater catchment basins.
"We cannot afford to wait any longer to fix these roads," he said. "These roads need to be graded as soon as possible."
Councilman Todd McLendon said that after the town incorporated, it started supplementing the LGWCD for road maintenance.
"Even after supplementing, the roads continued to go down because the district is afraid to raise its assessment," McLendon said. "We had people on the board here now who were afraid to raise assessments. Now we are stuck here. We are now in a bad situation where we need funding."
Browning said the town does not have a lot of money for additional road maintenance.
"We have to slow down on the town roads Bergeron finished last week," he said. "They took $600,000 worth of rock. They had never been maintained. To continue, Bergeron wanted another $700,000 worth of rock. We are scrambling for everything that we can to get some money. I would not recommend using it all. Then we would be in a mess."
Town Manager Bill Underwood pointed out that he spent more than $104,000 last month on the 16 miles of roads.
Jarriel made motion to add $18,000 for additional grading on the new acquired roads, which carried 3-2 with McLendon and Browning opposed.