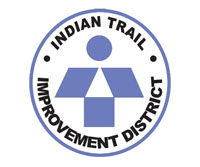 Members of the Indian Trail Improvement District Board of Supervisors spent a busy two days at Palm Beach County Days in Tallahassee last week lobbying state officials to secure money to complete the Corbett levee and get funding for what is now a test pumping project on the federally owned Moss property.
Both projects are designed to improve drainage and protect homes in the northern areas of The Acreage.
ITID President Betty Argue, Vice President Carol Jacobs, Supervisor Ralph Bair and acting District Manager Rob Robinson attended the two-day event on Jan. 9 and Jan. 10.
"It was a very busy schedule," Argue told the Town-Crier on Tuesday on her way back to Tallahassee for a Florida Association of Special Districts meeting. "Essentially, we were lobbying to get the balance of funds that we need for the Corbett levee."
State Rep. Rick Roth (R-District 85) has sponsored a bill for $3.5 million, which went through its first reading on Tuesday, Jan 9. State Sen. Bobby Powell (D-District 30) has been asked to sponsor the bill on the State Senate side.
The funding would be for the second phase of the levee project at the southern edge of the J.W. Corbett Wildlife Management Area, which was half completed by the South Florida Water Management District with $3.5 million in state money following a near breach that was contained after heavy rains from Tropical Storm Isaac in 2012.
The phase one work included a new earthen levee measuring 2.6 miles long, 14 feet wide at the top, 50 feet wide at the bottom and 6 feet tall on the lower half of the levee.
In a subsequent session, the legislature provided $500,000 more toward the funding, which has not been spent.
"We already have $500,000 secured with the [Department of Environmental Protection] toward the project," Argue said, adding that about $2.7 million in a pre-mitigation grant from the Federal Emergency Management Agency has been approved but not received.
"We got approval for that in July last year, and we have been waiting for paperwork on that, so we don't have the money in hand yet," Argue explained. "Because we don't have the money in hand, we're still asking for $3.5 million from the state, just to be sure that we're going to get some money."
If everything comes together, only about $800,000 more will be needed from the state to complete the project.
"Everybody we met with supports moving forward with the Corbett levee and getting the funding for it," Argue said. "It's really positive feedback that we received. We really hope that we get the balance of funds we need to get that done this year."
The delegation also discussed other proposed projects with the DEP, including funding for drainage projects on the Moss property, which currently has a pilot project in place, and 340 acres of undeveloped land in the northwest corner of the district that was dedicated by GL Homes as part of its development approval.
"There's definitely some interest there, and that will be something that we will focus on in the next legislative session," Argue said.
The ITID delegation also lobbied for continued financing for the State Road 7 extension, which has cleared all hurdles but one outstanding lawsuit. However, the project, which will take the road from its terminus at 60th Street North all the way to Northlake Blvd., has been scheduled to proceed.
Final design plans are anticipated to go out to bid in February with construction beginning in March, according to the Florida Department of Transportation.
"They're currently in a holding pattern, I guess you would say," Argue said. "My understanding is that they are going to proceed regardless of the lawsuit."
She said the delegation met with FDOT officials, who still registered concerns about the lawsuit but were prepared to go forward with the project.
"Really nothing has changed there," she said. "They're ready to move forward, and nobody's pulling funding from that."
Argue said she hopes that the ITID board — which has been distracted by internal issues including the replacement of its manager — will be in a better position for next year's session, although she considers this year's trip well worthwhile.
"We're looking forward to next year, laying the groundwork for where our focus will be," she said. "We have lots of work to do but, unfortunately, this past year we really didn't do any planning. This year, I hope we will not only do the planning, but we'll do what's necessary to get what we need to fix the gaps, whether it's writing bills or getting grants or what have you. But we need to start planning now, and we'll be discussing that at the board meeting."
Argue was on her way back to Tallahassee on Tuesday for the special districts meeting.
"That's today and tomorrow," she said. "Rob Robinson is up there. He has been up there since Wednesday. He's doing the certified district manager program."
Robinson, who is the district's operations and maintenance director, withdrew his application to be the district's permanent manager. The board is scheduled to interview permanent manager candidates at its next meeting on Jan. 24.