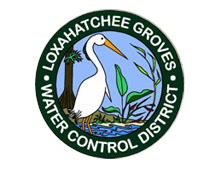 The Loxahatchee Groves Water Control District Board of Supervisors will meet Monday, Jan. 8 and will consider culvert repair maps, bids to audit its road paving loan and renewing the contract with its legal firm.
An aerial map will be used to show the location of property owners' culverts to be cleaned and saw-cut in response to the board's direction at its Dec. 11 meeting approving the project.
At that meeting, LGWCD Administrator Steve Yohe said the clogged and mangled culverts are the result of damage by district mowers and siltation from the dirt roads.
The district proposes to clean the culverts due to the use of the culverts by the district to drain unpaved roads that were then its responsibility, but now have been turned over to the Town of Loxahatchee Groves.
In other business, the board will review the status of a proposed forensic audit of the BankUnited loan that has funds remaining for maintenance of lettered roads paved with open-graded emulsified mix (OGEM) before turning the funds over to the town.
Pursuant to direction from the board in November, proposals for forensic auditing were sought from qualified firms to be submitted by Dec. 20.
Three proposals were submitted, by Marsh-Minick of Portland, Ore.; Plante Moran of Southfield, Mich.; and Rehmann Robson of Vero Beach and Grand Rapids, Mich.
The Marsh-Minick submission was late and disqualified, according to the staff report.
Plante Moran's estimated fee is $53,000. The Rehmann Robson fee is based on a 20 percent discount for a government entity and includes a proposed scope of work.
The board will also consider the renewal of its contract with its law firm, Caldwell Pacetti Edwards Schoech & Viator.
The contract would be renewed through February 2021. The contract expires on Feb. 11.
Caldwell Pacetti began work with the LGWCD in 2008 and entered into an agreement for legal services on Feb. 8, 2010, which has been extended twice.
Caldwell Pacetti attorneys Charles Schoech and Mary Viator have been the primary legal counsel for the district during the terms of the contracts.
The proposed charges are $215 per hour for attorneys and $90 per hour for paralegals.