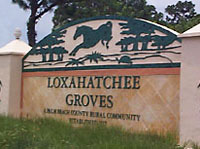 The Loxahatchee Groves Planning & Zoning Board reviewed several ordinances on Tuesday, including nuisance abatement procedures, food truck regulations and the town's recreational vehicle (RV) pilot program, which has seen very little participation.
Planning consultant Jim Fleischmann said the nuisance abatement ordinance, which aims to require property owners to clear the road rights-of-way of overgrowth, had come before the panel last fall. The Loxahatchee Groves Town Council last month had suggested revisions to bring back to the board and the Unified Land Development Committee for consideration.
Recommended changes included changing the height trimming requirement from 18 feet to 14 feet in order to preserve the overhang.
Board Member Veronica Close was concerned about portions of the ordinance that refer to conditions on the property itself, in addition to the right-of-way easement, but Fleischmann said those provisions had been removed by the council.
Board Chair Dennis Lipp said a reference to places where it is evident that illegal activities are taking place should be an issue for code enforcement.
Town Clerk Virginia Walton said that provision allows more enforcement authority, but Board Member William Ford said he found the clause conducive to subjective interpretation.
"I don't want to codify everything under the sun," he said. "I thought our idea was government light. I'm not a big fan of adding more rules and regulations."
Close asked for an example of illegal activity, and Lipp said two marijuana grow houses in town looked like every other house until they caught on fire.
Ford said the ordinance seems to be encroaching inside the property and asked where the ordinance originated.
Fleischmann said it was drafted by the town attorney originally to control overgrowth on the rights-of-way and provide the town with a means of enforcement, but provisions were added for other conditions that might arise.
Ford said the ordinance seems to be encroaching beyond its original purpose. "I have a lot of problems with this," he said.
Close made a motion to defer the ordinance, which carried 3-0 with Board Member Robin Crawford absent. The board's fifth member, Grace Joyce, recently resigned.
In other business, the board discussed a proposed ordinance intended to control food trucks in town.
Fleischmann said the ordinance was the result of an issue that was brought before the council as result of complaints. He added that there have been other inquiries about additional food trucks in town.
"The council directed staff to draft some regulations," Fleischmann said, explaining that he had looked at other municipal ordinances, as well as Palm Beach County's.
It distinguishes between mobile kitchens and mobile food trucks that do not cook food, and makes it unlawful for a food truck vendor to engage in business without approval by the town.
The proposed ordinance also has specific limitations on what is allowed unless they have approval from the town. They can't locate where they impede traffic, or stop on a roadway to dispense beverages or food.
Lipp asked whether the ordinance regulates food trucks that deliver prepared food at construction sites or those selling packaged food to farmworkers.
Ford said those trucks are operating on private property, and distinguished between food trucks that prepare food and those that have commissaries.
Fleischmann pointed out that they would not be allowed on easements, and under the ordinance, the food trucks would have to get one of two permits, annual or temporary.
"Both require approval by the town where they can park," he said. "It would not allow someone to just pull off the road and conduct business. They have to have permission from the property owner."
Ford said the ordinance would require vendors to go through a lot of red tape. He recommended some type of differentiation between food trucks that stay in one place and those that make five-minute stops at construction sites.
Lipp pointed out that the five-minute stop-and-go vendors are already regulated by the health department.
Fleischmann said with the questions being raised, the ordinance might need to be deferred.
Ford made a motion to table the ordinance for further discussion, which carried 3-0.
The committee also discussed improving the RV pilot project that has been underway for several months with only one applicant participating.
Fleischmann said the program was put in place in an attempt to control the deluge of equestrians coming down each winter and living in trailers.
"It's to set up some standards as to how many you can have, and keep an inventory," he said.
Close said she opposes the project because allowing RVs throws off the town's density restrictions. "For four months of the year, we are throwing our density out the window," she said.
Fleischmann said the pilot project is a trial to see the number of RVs that can be located during the equestrian season.
The season will end in March, but the program may be continued and modified, he said, pointing out that at the last council meeting, Town Manager Bill Underwood said only one property owner had registered for the program.
"Obviously, there is a concern that this is not going to work," he said.
Fleischmann pointed out that there is an item on the council's next agenda asking to use an RV as groom's quarters, challenging town staff's opinion that an RV is not a dwelling unit.
Ford asked what the board was supposed to be considering that evening, and Fleischman said it was how many RVs, if any, can be allowed on 5 acres.
Ford pointed out that the current situation requires a landowner to have a permanent residence on the property in order to have any RVs on it. "For all intents and purposes, this is for seasonal equestrians," Ford said.
Fleischmann said many of the RV dwellers in the town are grooms or horse owners who have horses stabled in Wellington where RVs are not allowed, and there are property owners in Loxahatchee Groves who rent space on their lots for RVs without permission from the town, which has resulted in illegal dumping of sewage, improper electrical hookups and problems with garbage collection fees. "This is an attempt to deal with that issue," he said.
Close said she was not thrilled about the ordinance, but Fleischmann said the alternative is to continue as it has always been — unregulated and dangerous.
"I don't think the council wants to totally get rid of it, but they don't want people taking advantage of it," he said.
During public comment, Phillis Maniglia, a council candidate in the upcoming election, said nobody had a problem with trailers until the equestrian community came to town, and pointed out that there was one property owner on C Road who put more than 30 trailers on his lot.
Maniglia added that some of the people are coming here and cleaning up the properties. "We have a lot of junkyards out here and people are spending money cleaning them up," she said. "They build barns first."
She said one reason people had not applied for the pilot program was because the ordinance requires the property owner to sign a power of attorney to an RV dweller, and that the town wants "carte blanche" to walk onto the property at any time.
"The power of attorney is absolutely ridiculous," Maniglia said. "I have a giant problem with a code enforcer wanting to walk onto property at any time. To not allow RVs while there is only a barn is a problem for a lot of these folks. As long as they put in sewer and electric, why shouldn't they be allowed?"
Loxahatchee Groves Water Control District Supervisor Laura Danowski said, as a lifelong equestrian, she has been one of those people who lives in a trailer.
"It is imperative to have staff on the property," Danowski said. "An RV or some sort of housing is important for the horses."
She agreed with impact fees and charging extra for trash pickup.
"As an equestrian, we need some sort of incentive," Danowski said. "I don't want to pay extra for trash, but I will pass it on to the renter. There needs to be some sort of rules. Equestrians bring in revenue."
She added that if the property owner claims an agricultural exemption, a code enforcer should be able to come on the property with an appointment.
Close asked about the status of migrant workers' dwellings, and Fleischmann said that is part of the challenge.
Fleischmann asked for recommendations from the board, and Ford said there should be a distinction between renting and putting up family who comes for a visit.
Lipp said he feels that the pilot project needs to be more "user-friendly."
Fleischmann said the pilot program in effect will run through May, and the town has the option to then revise it or withdraw it.
"The council has seen that it hasn't been effective," he said.