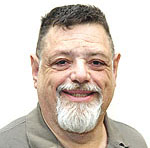 'I' ON CULTURE
I did not expect much from Pitch Perfect 3, and that is what I got. Sequels are often weaker than the originals, but this one might set a new record for woefulness. The first movie, back in 2012, was fun; a group of misfit girls come together in a singing group, the Bellas, under the leadership of a talented newcomer and are able to beat a particularly obnoxious group of competitors in a singing contest.
The original movie made a lot of money. So, they did a sequel where the group beat a particularly obnoxious group of competitors to win a world competition. It was not nearly as good, but it also made a lot of money. So, we get the next one.
The girls are all back, led by Beca (Anna Kendrick), Fat Amy (Rebel Wilson), Chloe (Brittany Snow) and Aubrey (Anna Camp). After watching younger member Emily (Hailee Steinfeld). Performing with a younger group of women, they decide they want one last chance to get together singing. Aubrey's father, a general whom she never sees, has connections, and they get to do a USO tour. As expected, it turns into a contest between them and several particularly obnoxious groups of competitors to win a contest to be an opening act for a rapper/producer named DJ Khaled.
And the girls do their things. Fat Amy is bawdy, Chloe is chasing a guy, and Beca is drifting even though she is the real talent in the group. In an early number, the Bellas, even though they are excellent singers, seem outclassed by groups that also have musical instruments. Afterward, however, they are always shown to be excellent, receiving a great deal of applause. Just the kind of minor plot point that is never resolved.
There are several subplots. Beca is offered a dream job but would be forced to leave her friends (which she and others call their family) behind. Audrey never gets to see her dad. And, in the largest part of the plot, Fat Amy comes in contact with her father (John Lithgow). She wants nothing to do with him, but he charms her until she finds out that he wants access to her money. It seems while she was living on the edge, she had access to a huge bank account. She had not been aware of that; her response was, "I really have to start opening my mail." He wants the money and, well, things happen, but this is a comedy.
The plot is paper thin. As noted above, our hapless losers are popular everywhere with the troops. The disasters they cause probably sounded cute on paper but seemed ridiculous on screen. There was no reaction to the slapstick scene where they destroy a hotel suite. The whole father/daughter thing seemed out of place in a comedy. Beca gets her chance to play with sound equipment and is great, which was a key element of the first two movies. And all the dramatics are papered over to give a happy ending.
On the other hand, the singing and music are quite good. Even an old curmudgeon like myself, who believes music died when the Beatles broke up, enjoyed the singing and the backup bands. For those coming to the movie for that, well, you will enjoy it.
The actors were all charming. I have always liked Anna Kendrick and her singing, although she has managed to keep Beca absolutely static over three movies. In each, she does her own musical thing and flirts with a good-looking man. Wilson is definitely an acquired taste, and her act is getting a bit old. There is just about no nuance in her performances, and that limits her. Lithgow had a terrible Australian accent and was truly wasted. I assume he did the film for the money. I liked most of the women who were part of the group, but Camp and Steinfeld did stand out. DJ Khaled, who is mentioned enough that I wondered if this was a tribute movie for him, only had one scene where he had more than perfunctory dialogue.
This is a silly bit of fluff, but I admit it has a target audience that does not contain old men. Several young women in the theater seemed to really enjoy the movie. So, under some conditions, you might just like it.