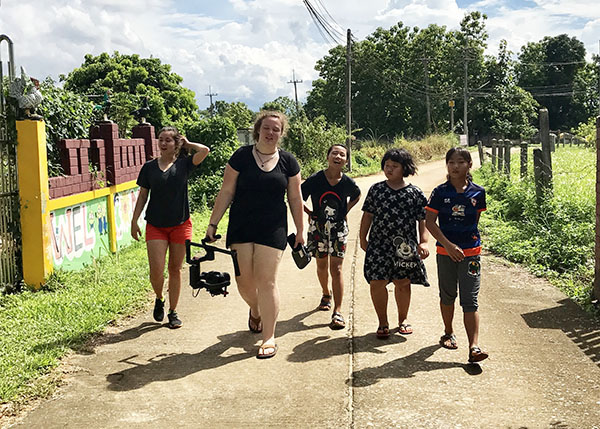 By Betsy LaBelle
Charlotte Page, a 17-year-old Wellington resident, spent last summer in Thailand working with the organization Friends of Thai Daughters to help fight human trafficking.
For the last 15 years, the organization has taken in dozens of young women, often as young as 9 years old, saved from the rampant sex-trafficking operations in that country. Friends of Thai Daughters continues to change their lives by helping transform them into thriving, confident women.
Incorporated as a nonprofit in 2005, Friends of Thai Daughters has helped to protect and educate dozens of girls and young women through a family-type atmosphere over the past decade. The organization has been so successful within the communities of northern Thailand that many village families are now aware of the horrors associated with the empty promises made by the traffickers.
The organization has touched many people's lives through the solution of providing these girls with safe shelter, education and support. Friends of Thai Daughters has two houses with a housemother in a safe, secure environment with up to 15 girls. They own one, Sunflower House in Chiang Rai, where Page spent her summer, and then in 2016, they expanded to the city of Chiang Khong, located on the Laos border. They are working to establish three more Sunflower House locations throughout the Golden Triangle region.
Though she had never been so up-close to it before, Page read about the sex-trafficking problem the world faces. "You hear about the problem, and you read about it in the paper," she said. "You realize it is not just a statistic, and they are your same age. You realize these girls have just been [cheated] in the circumstances given to them in life. And then you see them turn into these incredibly intelligent, confident women. It's a pretty special program."
Often volunteering as a mentor for the Big Brothers/Big Sisters program here in Palm Beach County, Page knew she loved working with children. The joint Palm Beach International Academy and King's Academy senior wanted to commit to a summer program when Jane McBride and Patricia Zinkowski, founders of the Friends of Thai Daughters and longtime friends of her mother's, came to stay in their Wellington home for a weekend.
"My mom's friends, who have been running this organization in Thailand for a long time, just happened to visit the same weekend I needed to decide for the summer," Page recalled. "They suggested I spend the summer in Thailand. They said they thought I'd be perfect to help them teach the girls. We started talking, and they really convinced me that I would be perfect for their program, because I could help teach the kids even more new things, like computers, the internet and social media."
Page and her parents had a concern about her safety living in northern Thailand for two months, so her family went on a whirlwind trip through Europe, with a few days in China, and then they stayed in Thailand for a week and a half to check it out.
"It was a huge decision to decide if I could live there by myself. My parents and I felt like we needed a little bit of time to see what it would be like living there. You have to remember, there is no air conditioning, and it's a little bit rural there," Page said. "It was very overwhelming, because I knew it was a big decision to make, and because I would have to be there without my parents, but as soon as I met the girls, I knew I would be just fine. They are the sweetest people ever. I felt so at home there. All they want is love, so it's easy to fit in there. Once you hear their stories and get to know them, it's amazing."
The houses of young women started when McBride and Zinkowski discovered girls living in an abandoned concrete structure in the village of Doi Luang while traveling through northern Thailand in 2002. They provided financial assistance and made a promise to the girls.
They later returned with a camera and made a documentary about the girls' stories and life in the nearby villages. Each girl had a tragic story to tell. Many were orphans of parents who died of AIDS or who had parents in prison. They lacked ID cards, leaving them highly vulnerable to traffickers.
Page said that, in getting to know the girls, "you think they would be freaked out after what they have been through, and quiet, and they are when they first arrive, though it is amazing to see them growing into these really confident and really smart and really happy girls."
The organization helps the girls through college, sending them to a public school kindergarten-type learning at first, then they go to a public school near their house, and then into a college in Thailand.
"Jane and Patty, they are the most incredible people," Page said. "What I think is so important to them and what really builds these girls' confidence is that they do not want more than 18 girls in one house, because at that point, the house has become an orphanage. It loses its magic at that point. It's meant to be a family with the older girls mentoring the younger girls, and it has grown to be strong that way."
Recently, one of the original girls graduated from college and is now working in Washington, D.C.
"She was one of the original girls they found in the old concrete structure protecting the rice ration they were given once a month," Page said. "This girl had a difficult situation in that her mom worked in the sex industry, took drugs and died of AIDS, and she didn't ever know her father. She pretty much was on her own when Jane and Patty found her and the others."
Overall, Page loved the entire experience.
"I loved being able to teach and be around the little kids," she said. "It reminds you of how lucky you are to have the education you get to have in your life."
The organization is working to build sponsors for each of the girls in the Palm Beach area. In March, the founders, along with several of the Thai Daughters, will be visiting to host a "Be Inspired by FTD" event.
For more information, e-mail info@friendsofthaidaughters.org or visit www.friendsofthaidaughters.org.