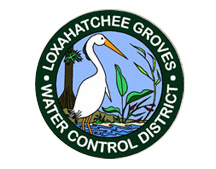 During the Loxahatchee Groves Water Control District Board of Supervisors meeting on Monday, March 12, Supervisor Karen Piesley asked why the district's water pump that fills the canals cannot be turned on at night with a timer to take advantage of off-peak electric hours.
Keeping the canal levels up in the district has been an ongoing issue, and one that Piesley has advocated for since before she became a supervisor.
"I asked about putting a time clock on the pumps so it can come on at 9 o'clock so we can have some water in the canals," Piesley said during the agenda review. "I don't know if we could put that on the agenda or not."
LGWCD Administrator Steve Yohe explained that starting the pump is a difficult process, requiring several operations to get it going.
"A demonstration would probably be appropriate to show you why a timer doesn't work," Yohe said. "It requires a huge amount of effort to turn it on."
Piesley said she did not understand why, particularly since other districts have timers on their water pumps.
"I don't know why we can't have a timer to turn the pump on," she said. "We need to get the water from 9 o'clock at night till noon the next day. There's nobody here at 9 o'clock at night."
Yohe said he would be glad to meet with anyone who can demonstrate how to turn the pump on automatically in a cost-effective manner. "I'm all for it," he said. "I think it's a great idea."
He explained that the pump has a huge starter that can only be activated manually.
"It has an arm that you've got to push it one way and then pull it back the other way with an extreme amount of force," Yohe said. "It's not one of those things that can readily be converted to a timer."
LGWCD Chair Anita Kane asked Yohe if he could have a representative come out and look at the pump, and possibly make it an agenda item at the next board meeting.
"Let's make it a priority, because it's something that board members have wanted for a while," Kane said.
Supervisor Simon Fernandez said he would also like to be on hand to look at the pump while the representative is there.
Piesley said that if a timer is not an option, she would like to have someone from staff there at night to turn it on physically. Yohe said that would be a costly option, and that timing is critical.
"I don't mean to sound resistant," Yohe said. "The cost of running into an FPL peak hour condition is serious. For 15 minutes last year it was $4,000."
Piesley said she only wanted to run the pump off peak time.
"I'm not talking peak hour," she said. "I'm talking off peak hours, on the weekend. We need to put water in that canal. There's got to be someone we could have turn that pump on."
Yohe said there has been a staff member coming in on Saturdays, but he would have to look at the FPL peak schedules, which change periodically.
"I understand the point you are trying to achieve," he said, adding that the Saturday worker typically puts in four hours.
"I think we all hear what you want," Kane said to Piesley. "We just have to come with a solution that works."
"The canals are really low," Piesley stressed.
Yohe said the problem is complicated by a private farm on South A Road that has a 50,000-gallon pump permit that draws down the water.
"They pump all night, so even though we pump during our hours of work that we're allowed to pump, at non-peak hours during the day, and we've been pumping on Saturday, we are at best just trying to stay even with where we are," Yohe said. "We are not really gaining on it because of this one landowner. He has a pump that is equal to ours and can pump longer than us."
Kane said the issue would be placed on the next agenda.