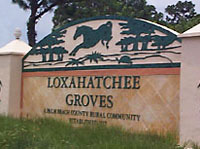 Okeechobee Blvd. has been designated as a truck route through the Town of Loxahatchee Groves — the only truck route through the community to Seminole Pratt Whitney Road, if you don't count Southern Blvd.
Town staff enacted the policy after being directed recently to control through truck traffic to preserve the town's stabilized roads.
"Right now, I've put up 'No Through Trucks' signs on all of the three roads coming off of Southern Blvd.," Town Manager Bill Underwood told the Town-Crier on Tuesday. "Trucks should not be using any [town] roads that are not Okeechobee Blvd., so no trucks should be coming in.
He said northbound or southbound truckers should not be cutting through the indirect access from E Road to 140th Avenue North via North Road near Sunsport Gardens.
"Pictures have been sent to me of semis going through that," Underwood said. "I implemented the 'no cut-through trucks' because they tear up the roads and they cause problems with traffic control. So, I put that into play to hopefully save the lifespan of the roads, and also so we don't have semis and 20-yard dump trucks running up and down dirt roads and OGEM roads. The likelihood of them lasting longer will be expanded."
The decision was staff-led after complaints of through truck traffic in town, which leaves Okeechobee as the only through street in town for trucks.
"It was me," Underwood said. "I am completely to blame. I had this argument from one guy who was complaining, 'What do you mean, I can't use Folsom [Road]?' I said, 'Well, you can't use Folsom, no through trucks.' I said, 'Why don't you use Crestwood?' He said, 'I can't use Crestwood, I'll get a ticket,' and I said, 'You can't use Folsom, you'll get a ticket.' Crestwood in Royal Palm Beach has no through trucks, and they don't go through there. So, why is it OK to go through Loxahatchee?"
He pointed out that Royal Palm Beach also does not allow through trucks except on Okeechobee Blvd.
"We need protection for our roads much more than Royal Palm Beach," he said, explaining that some of the town roads stabilized with open-graded emulsified mix are falling apart. "OGEM is a dirt road stabilizer. They have had more heavy truck traffic in the last few years than they have seen in a long time. It was time to stop it."
He added that many residents have gotten used to the recently imposed 30 mph speed limit on Okeechobee Blvd. and Folsom Road, which has led to trucks using side roads more to avoid enforcement on those roads.
"[Residents] say, 'At least I can get onto the roads,' so that was a good move by the council," he said.
Underwood added that the Palm Beach County Sheriff's Office is actively enforcing the restricting policy, and the next issue will be about owners of trucks who come home to Loxahatchee Groves.
"We have rules on how many trucks," he said. "I think you're allowed two trucks, two work vehicles, but since you can't have any employees, I don't know how you drive two vehicles, but that is the rule."
Underwood pointed out that he has only 21 hours of code enforcement a week.
"We have plenty to do, and we don't have time to enforce the people who actually live there," he said. "Those people who live there, they can drive their trucks there, but if they live north of Okeechobee, they'd better make sure that they go to Okeechobee to drive north, and they'd better not be driving to the cut-through."