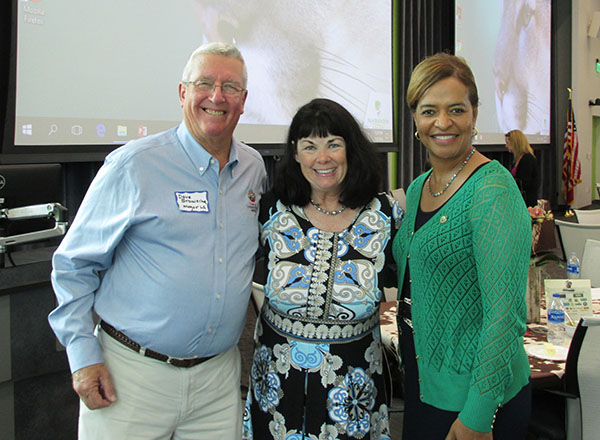 A local-food themed "farm to table" showcase of the Town of Loxahatchee Groves' home-grown talents and resources was featured at a luncheon hosting 180 representatives from the Palm Beach County League of Cities on Feb. 28 at the Loxahatchee Groves campus of Palm Beach State College.
Mary McNicholas of Geoffrey B. Sluggett & Associates envisioned the theme for the event with the goal of having the community work together, with local businesses to help underwrite the luncheon and to provide for a town scholarship fund.
"Our goal was reached and exceeded, with half the town coming out to help us decorate, make home-baked desserts and show off our local orchids, bamboo, fresh produce, honey, fruit, artwork and pottery," McNicholas said. "So many thanks will continue to go out to the local community who helped provide for this event, and especially [Loxahatchee Groves Water Control District Chair] Anita Kane, co-owner of Education Place, and Perla Underwood of Underwood Management for all of their help and support."
McNicholas collaborated with local food talents, such as Swank Farm & Specialty Produce for the lunch and wildflowers, Cream Catcher's Farm & Dairy's fresh turkeys, Gratitude Garden Organic Farm mushrooms and turmeric/ginger elixirs, as well as McCoy's Sunny South Apiaries for local honey.
Jodi Swank of Swank Farm said she was happy to help the town welcome representatives for the county's 39 municipalities.
As the attendees registered in the Palm Beach State College lobby, they were greeted by members of the Loxahatchee Groves Landowners' Association and invited to view the vignettes, showcasing multiple artists, Vanda orchids and historic pictures of the community. Retired Judge Nelson Bailey was on hand to entertain with a historical viewpoint of the town.
Joseph Chammas of Gratitude Garden displayed mushroom blocks and samples of anti-oxidant tumeric elixirs, along with various types of local McCoy's honey. Majestic orchid centerpieces provided by local farm R&R Orchids adorned the tables.
This was only the second time in a decade that the town has been able to host this countywide event for municipalities. Geoff Sluggett of Sluggett & Associates and Don Kiselewski of FP&L were the first supporters of the town's League of Cities luncheon after LGLA President Marge Herzog asked for their assistance shortly after incorporation. Back then, they served box lunches at the town's only park.
This event began as an idea to host with hot dogs and hamburgers, but once Mayor Dave Browning got McNicholas involved, the creative juices flowed.
"It was the best fit for our town's agricultural and equestrian resources to showcase the local farms, nurseries, equine-related talent and the historical value of our town," McNicholas explained.