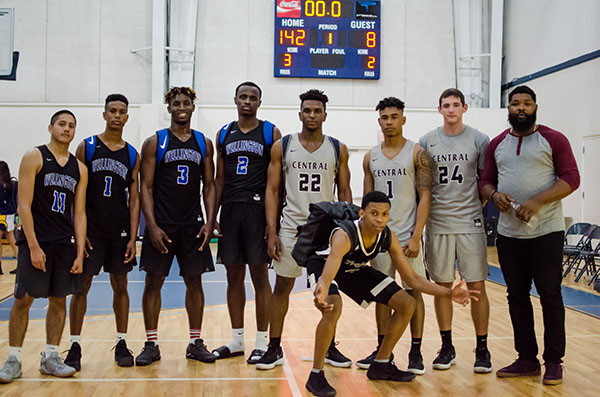 On Saturday, March 17, local high school seniors participated in the 10th annual "We Got Game" all-star game held at Atlantic Christian Academy. The event placed a spotlight on basketball players from all over Palm Beach County, with 24 schools represented.
The annual game continues to grow in popularity each year and provides seniors one last opportunity to display their skills on the court. This was evident by the score, with the red team holding on to defeat the black team 142-117. The game boasted a staggering 259 total points, with alley-oops, dunks and three-pointers from every angle.
Two area schools that were heavily represented on the black team were Wellington and Palm Beach Central. During the season, the two are district rivals, and usually face each other in the postseason. Last Saturday, they carried the same flag.
The players welcomed the opportunity to play for the same side for a change. "We're rivals, but in travel, we play for the same organization," Wellington's Nicholas Toledo said. "We're familiar with each other and good friends."
Toledo helped lead the Wolverines this season to an amazing 31-1 record with district and regional titles, along with a state finals appearance. "I'm going to miss being in this uniform," Toledo added, clinging to his Wellington jersey.
Other record-breakers were on hand for the game. Palm Beach Central's Gyvicht Geneus averaged 23 points per game and totaled over 1,000 career points, breaking the school record. "It means a lot to me because I spent four years with my coach and my brothers working hard to make that accomplishment," Geneus said.
The players referred to the game as a family, and despite the school rivalry, they all remain friends throughout the school year, especially during the season.
"It feels good. We're all friends, and we all played on travel teams, but we're all really close, like one big family," said Geneus, who has drawn interest from Division II and Division III schools.
The night did not disappoint, as both teams pulled no punches. The red team broke out early and led by as much as 19 points, but the black team rallied back to make the game close. The red team led 65-50 at halftime.
The second half provided the spectacle many anticipated, with plenty of skilled passing, to dunk finishes at the rim. Late in the third period, the black team only trailed 79-70. The final period, unleashed triple digits, but it was the red team that stayed on top for the 142-117 win.
After the contest, players gathered for group photos and socialized with supporters and the younger fans, displaying how the basketball community really is one big family.
Local players for the black team included Nicholas Toledo, Bryan Williams, Jonathan Philistin and Texan Moulton from Wellington, as well as Tre Jackson, Gyvicht Geneus and Drew Potter from Palm Beach Central.