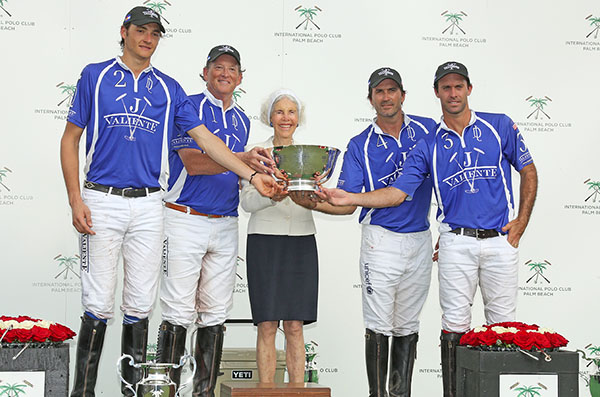 Following their recent C.V. Whitney Cup victory against Colorado, Valiente never lost focus and found themselves in an identical final on Sunday, March 11, at the International Polo Club Palm Beach in Wellington. Poised to capture their second 26-goal tournament title, Valiente delivered in the second half to claim the Butler Handicap final 11-8.
Play started off evenly as both teams traded goals at a rapid pace. Despite the fluidity of smart plays between Adolfo Cambiaso and Facundo Pieres, Colorado's Magoo Laprida and Diego Cavanagh showed no signs of intimidation and pursued them confidently on the field to score.
"Our energy is good and we are having fun," Cavanagh said. "We enjoy being together not only on the field, but also in the barn."
Colorado's one-goal lead due to handicap diminished early in the second chukker, as Cambiaso outwitted defenders twice to tie the game 4-4. Striking hard offensively, Laprida out-maneuvered his opponents in the next throw-in and picked up his second-consecutive field goal. Leaving Valiente scoreless in the third, Colorado retained the lead after Cavanagh hit a beautiful pass to Juan Britos, ending the half 6-4.
A blocking call against Colorado resulted in the first penalty conversion of the game by Pieres. Unleashing a wave of powerful plays on Colorado with laser-like precision, Pieres proceeded to accumulate four additional unanswered goals by the end of the fifth chukker. Utilizing Cambiaso and Tommy Beresford as strong defenders, Valiente focused on blocking Colorado's attempts to gain possession, which allowed Pieres free rein on the field.
Headed into the final chukker 9-6 in favor of Valiente, Colorado had yet to score since the first half. Capitalizing on a Penalty 2 opportunity, Cavanagh converted the goal, his second of the game. Creating space for himself to position the ball, Cambiaso worked down the field and hit a massive shot just to the inside of Colorado's goal posts. Playing full out until the final horn sounded, Laprida skillfully edged out Cambiaso for the final goal, but the tournament went to Valiente 11-8.
Following the trophy presentation, Bob Jornayvaz shared his thoughts on the game. "It's just fun, with Adolfo and Facundo. Watching those two guys together is amazing," he said. "We are doing what we are supposed to in polo, and that is have fun. We had some wide-open polo and a couple of chukkers with no penalties, which is great."
Contributing five of Valiente's 11 goals, Adolfo Cambiaso was named Most Valuable Player. Best Playing Pony honors were presented to Tanita, an American Thoroughbred owned by J5 Equestrian and played by Cambiaso in the fifth chukker.
The USPA Polo Network will livestream the USPA Gold Cup, the second leg of polo's triple crown, beginning on Saturday, March 17, at 1 p.m., as well as the 20-goal Carlos Gracida Cup at 10 a.m. from IPC in Wellington.