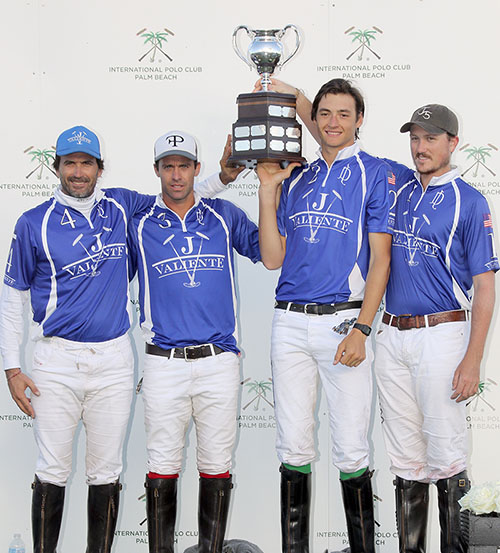 Fresh off their recent win in the Ylvisaker Cup, defending C.V. Whitney Cup champions Valiente kept the momentum going, defeating Colorado on Sunday, March 4 at the International Polo Club Palm Beach in Wellington.
Putting their new rosters to the test for the first 26-goal tournament of the season, both teams created fresh dynamics on the field, but Valiente rode away with its second consecutive tournament title 9-4.
Valiente's unprecedented final featuring the two top 10-goalers in the world — rivals Adolfo Cambiaso and Facundo Pieres — was a display of incredible skill and teamwork.
Executing a beautiful 70-yard shot to goal quickly followed by a deep neckshot in the first chukker, Pieres unleashed a strong offensive force that Colorado could not stop.
Expertly setting up his forward, Cambiaso worked the ball down field, leaving it for Rob Jornayvaz, who picked up the only goal of the second chukker.
As play progressed, Colorado experienced many missed opportunities throughout the game as players repeatedly were unable to connect and overrode, leaving the team scoreless in the first half, which ended 5-0 in favor of Valiente.
Fighting to get his team in the game, Diego Cavanagh charged through the formidable blue jerseys to finally score two goals in the fourth, effectively outscoring Valiente by one in the chukker. Cambiaso opened the fifth with a field goal, but was then answered by Cavanagh, who hit a neckshot through traffic to goal. Completely in sync and dominating the field, Pieres and Cambiaso completed two additional plays to triple Colorado's score 9-3 headed into the final chukker.
As precious minutes ticked by, the ball was passed back and forth across the field numerous times, finally crossing between Colorado's goal posts and giving Magoo Laprida his first goal of the game.
Despite a valiant effort in the last two chukkers, Colorado could not rival Valiente's momentum.
Reflecting on the tournament, Valiente's Tommy Beresford said, "The horses are getting fitter, and I'm playing a little faster. It is becoming a bit easier, as we are getting to know each other. We feel great and are looking forward to the next tournament."
Responsible for five of Valiente's nine goals, Pieres was named Most Valuable Player.
"Every game we are going to get a little bit better as a team," Pieres said. "Today, we were better with passing the ball between each other. Our last game was more difficult from the beginning, and we had some pressure because it was our first together, but today was much better."
Best Playing Pony honors were awarded to Mentolada, owned by J5 Equestrian and ridden by Cambiaso in the third chukker.
For more information about the International Polo Club Palm Beach, visit www.internationalpoloclub.com.