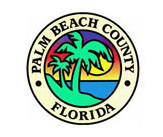 The Palm Beach County Commission heard a hurricane preparedness report from its emergency management staff on Tuesday and learned of corrections made based on experiences from recent storms.
Director of Public Safety Stephanie Sejnoha reported on what the Division of Emergency Management has accomplished in the aftermath of those storms and an overview of the county's disaster policy in cooperation with other agencies, including volunteers such as the American Red Cross.
"It's all about teamwork," Sejnoha said. "Palm Beach County is fortunate to have a strong team of county employees, stakeholder agencies and nonprofit volunteer organizations that we can access during emergencies and disasters. We rely on all county departments, as well as numerous local, federal, nonprofit and volunteer agencies."
While the workshop's focus was on the last two hurricane seasons, Sejnoha noted that the Division of Emergency Management's responsibility is much broader than just hurricanes.
"Historically, hurricanes have not been the most frequent hazard addressed by the Division of Emergency Management," she said. "Flooding and hazardous materials are the top two hazards that the we've had to respond to."
The Division of Emergency Management has also been active in the management of recent frequent presidential visits. Sejnoha said the division is given statutory responsibility to respond to and recover from any hazard that threatens the lives and property of residents and visitors to the county. The School District of Palm Beach County is also required to cooperate in the sheltering of victims, although this is not a requirement for taxpayer-funded charter schools.
Director of Emergency Management Bill Johnson said Hurricane Matthew in 2016 was a very powerful, long-lived and deadly storm, becoming a Category 5 hurricane as it passed Aruba and remaining a Category 4 storm as it passed Haiti, Cuba and the Bahamas, paralleling the east coast of Florida for nearly 36 hours, coming within 63 miles of West Palm Beach.
"Palm Beach County did, in fact, dodge the bullet with Hurricane Matthew," Johnson said. "But our EOC was activated for four days."
About 123,000 people were evacuated, and it was the first time the Emergency Operation Center's mass notification system was used.
"We ultimately sheltered more than 7,500 people in our general population, special needs and pet-friendly shelters," Johnson said.
The county had more than 682,000 power outages, and after 24 hours, nearly half had power restored.
More than 840 traffic signals were damaged, and the county received almost 22,000 calls to the Emergency Information Center, which is staffed by county employees. More than 2,300 county employees worked during Matthew in essential positions, the EOC or in shelters.
The county recently submitted $43 million in damage-related claims to county facilities to FEMA for reimbursement from hurricanes Irma and Matthew, but noted that the county has received little reimbursement from previous hurricanes due to the bureaucratic process.
"Those costs are associated with emergency protective measures, which cover many of the response costs," Johnson said. "For example, 3,827 county employees worked throughout the Irma event. We have sought reimbursement for these salary costs, and are also seeking reimbursement for beach restoration, which account for over a quarter of all county expenses."
During Hurricane Irma in 2017, the county opened 13 emergency shelters, including one pet-friendly shelter and two special-needs shelters, sheltering nearly 17,000 people, more than 300 animals, and maxed out its pet-friendly shelter, where it had to relocate 56 animals to a neighboring school, and it nearly maxed out one of its special-needs shelters at the South Florida Fairgrounds.
The county evacuated nearly 300,000 people, although only about 10 percent were advised to go to a shelter, so the county had space to spare.
"Hurricane Irma presented us with several firsts," Johnson said. "It was the first time in recent history that we evacuated the western communities for a tropical cyclone. We led the largest shelter operation since the 2004-05 season, which included Jeanne and Frances. It was the first time that we nearly exceeded our special-needs capacity and the first time we exceeded our pet-friendly shelter capacity. In Matthew, we learned the limitations of the American Red Cross, and as a result, Palm Beach County is taking the lead for all sheltering operations."
During Irma, the county used 453 county employees to staff shelters. It was also the first time that the county and school district worked together to use feeding contractors to feed shelter clients, workers and first responders. It had been relying primarily on Red Cross volunteers previously.
It was also the first time that the EOC used its new rapid impact assessment tool to assign first responders after Irma had passed.
Last year was also the first time that the county used its emergency alert phone system to notify more than 414,000 county residents of severe weather and evacuation notices.
Sejnoha said the county is using information collected from Matthew and Irma to enhance emergency operations in more than 400 areas.
"We have addressed more than 84 percent of these strategies," she said. "We intend to have most of them completed by June 1."
She added that the county is assessing county employees and their skill sets to match them to appropriate disaster-related roles.
"It provides clear assignments and training to our employees," Sejnoha said. "We currently have more than 1,300 employees enrolled and trained to serve our community. The nearly 4,500 other employees are considered department essential."
Sejnoha said that the county has also taken into consideration that some employees may be unable to serve during disasters.
Based on employee input from those who worked at the shelters, the county has adapted the shelters with more televisions and wristband identification bracelets for shelter clients, as well as enhanced security strategies and internal radio communication.
Commissioner Hal Valeche asked about who determines evacuation orders and about substantial delays reported on northbound Interstate 95 during the evacuation.
Johnson said evacuation zones are created using topographic and storm surge models, and evacuation orders can be by the county administrator or the governor.
"There should be no reason for you to evacuate to Orlando or Georgia," he said. "There is more… mortality associated with that, so we like to have people evacuate within the county."
Johnson added that the county is monitoring a state mandate that all senior care facilities have a generator and fuel to maintain a common space at 81 degrees or lower.
Commissioners also talked about curfews that were imposed in the wake of recent hurricanes, and complaints that arose from limitations on residents' ability to move about.
County Administrator Verdenia Baker explained that she is in charge of imposing curfews, with "significant input" from law enforcement.
"We have morning calls from law enforcement," she said. "Everybody gets to give their input, and then we make the final call. It is a difficult call to make because every city is different."