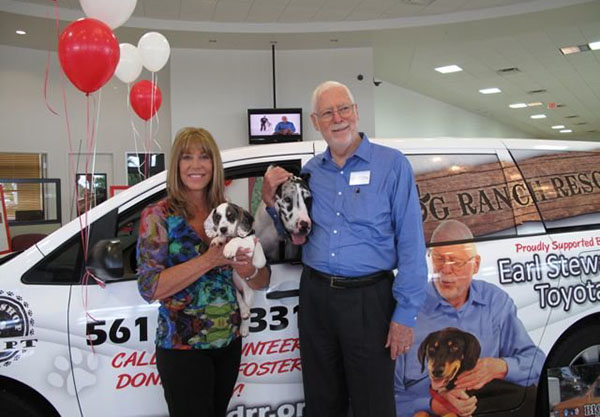 Earl Stewart, owner of Earl Stewart Toyota, has accepted an invitation to join the board of directors of Big Dog Ranch Rescue.
For the past four years, Earl Stewart Toyota has partnered with Big Dog Ranch Rescue in its Dog of the Month program. Each month, and often more often than once a month, a dog that is available for adoption is featured as the Earl Stewart Toyota Dog of the Month.
The dealership pays the adoption fees for the person who adopts the dog, after a background check to assure the dog and the prospective adopter are a good match.
"We get great pleasure in helping Big Dog Ranch Rescue find forever homes for the many dogs that come into their care," Stewart said. "Nothing is more rewarding than knowing that you have played a role in matching a family with a rescued dog. We are proud that Earl Stewart Toyota has helped facilitate and payed for dozens of these adoptions."
In addition to the Dog of the Month program, Earl Stewart Toyota has donated a Toyota van to the charity outfitted to transport dogs to off-site adoption events and has produced and aired television ad campaigns promoting the partnership between the dealership and Big Dog Ranch Rescue, and has also been a major sponsor of the nonprofit's fundraising events. Also, all proceeds from the sale of Earl Stewart's book Confessions of a Recovering Car Dealer are donated to Big Dog Ranch Rescue.
Earl Stewart Toyota is a "dog friendly" business, providing free doggie treats, a dog water station in the customer service lounge, a dog walk area, and the ability of customers to bring their dogs with them while their car is being serviced or they are shopping for a new or used car.
The mission of Big Dog Ranch Rescue is to provide shelter, care and affection to homeless dogs of all breeds and sizes (big and little dogs) and adopt them out into loving homes. For more information, visit www.bdrr.org.
For more information about Earl Stewart Toyota and its Dog of the Month program, visit www.earlstewarttoyota.com/dog-of-the-month.