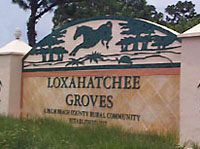 Residents of Loxahatchee Groves will observe Earth Day on Saturday, April 21 by cleaning up Okeechobee Blvd. and lettered roads in a project led by Loxahatchee Groves Landowners' Association President Marge Herzog and students from Seminole Ridge High School.
The official Earth Day will be marked Sunday, April 22, where communities around the country do their part to clean up trash, plant trees or otherwise contribute to the environmental well-being of their communities.
One pastime of many communities, including Palm Beach County, is the Great American Cleanup. The local chapter, Keep Palm Beach County Beautiful, is putting on events throughout the county.
Herzog and her team are well known for their efforts with the local Adopt-A-Road program, where they periodically hold cleanups with the help of other volunteers.
"We'll have our pile at A Road and Okeechobee," she said. "We've got George Perez with his hydraulic dumping trailer. We'll have about 50 kids from the National Honor Society showing up. It's all sponsored by Keep Palm Beach County Beautiful. A lot of the groups did it last week, but I was asked not to because it was prom weekend for the group that works with me, so we're doing it this week."
The group will meet at 8 a.m. on the sidewalk by Loxahatchee Groves Elementary School and will be finished by 11 a.m. For more information call Herzog at (561) 798-9875.
Herzog was asked by some town officials if she and her crew would be willing to help clean up roads and canals where residents have complained about litter and dumping that the town has had trouble controlling.
The planned Earth Day cleanup is not related to town efforts, instead it is an annual event hosted by the LGLA, although it was announced on the town's web site.
The town recently approved a "nuisance" ordinance that made residents culpable to paying for cleanup of debris on the easements of their homes, as well as keeping vegetation on those easements trimmed.
"This is something that Marge has coordinated every year," Mayor Dave Browning told the Town-Crier on Wednesday. "She uses a lot of the kids from Seminole Ridge. I think somebody had mentioned to her about heading up some other cleanups in the town, but that would be a separate issue. They get a lot of the students, and as many residents as they can, to go in and participate. They try to clean up along all the roads, especially Okeechobee, but also the side roads."
The Village of Wellington will hold its annual Earth Day and Arbor Day celebration on Saturday, April 21 from 4 to 7 p.m. at the Wellington Amphitheater, hosted by the Wellington Tree Board, the Florida Forestry Service and the Wellington Garden Club. For more information about this and other Wellington events, visit www.wellingtonfl.gov/events.