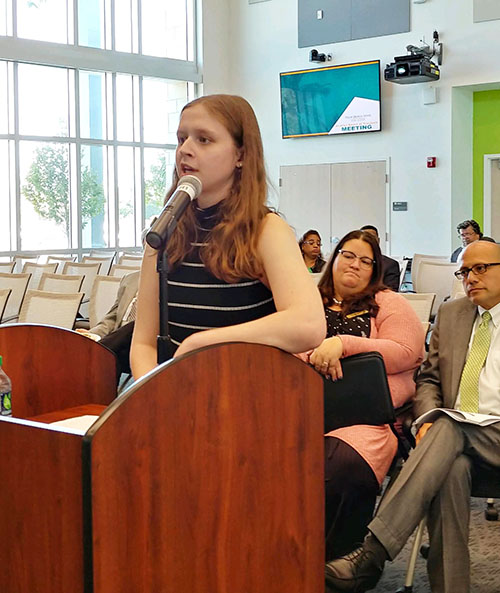 The Palm Beach State College Board of Trustees held its meeting for the first time at the new Loxahatchee Groves campus on Tuesday where Dr. Maria M. Vallejo, provost of the Loxahatchee Groves and Belle Glade campuses, gave a campus status report.
Katherine Kato-Burke, a Wellington High School graduate and second-semester student at the Loxahatchee Groves campus, also addressed the board.
"I feel so lucky to have a campus so close to home," said Kato-Burke, a Student Advisory Board member. "As a biochemistry major, most of my studies are centered around sciences and, of course, I would like to see more courses of that nature on this campus."
Kato-Burke said she makes use of resources on the campus, including the library extension and computer center, although it is sometimes noisy with the number of students, and there are not enough computers for student demand, sometimes resulting in a 15-minute time limit.
She added that the library portion of the lab offers books that students must order, which can take up to a week to arrive and presents a challenge for a student who must turn in an essay quickly.
"I love the Loxahatchee campus, and I would hate to have to travel for any other courses or any other resources," she said.
Vallejo welcomed the board to the Loxahatchee Groves campus.
"We're pleased to host our first Board of Trustees meeting," she said. "We know that it has been a labor of love for many of you, and the accomplishments that you will see of the effort of this board. We can't believe that it has been just a little over a year since we opened up our doors to this community."
Vallejo said her staff has focused on attracting students from the surrounding communities of Wellington, Royal Palm Beach and Loxahatchee Groves.
"We know that our communities are expanding even as we speak, and we will be out there reaching out to them," she said.
The college has hosted about 15 community events to attract students.
"We want them to come on campus and see who we are and what we have to offer," Vallejo said, relating some of the activities that the campus has hosted. "We have hosted for the whole year the Central Palm Beach County Chamber's Young Entrepreneurs Academy. "This is a group that has been vetted, applied and some have gotten scholarships to participate, and then compete statewide in endeavors of entrepreneurship."
Cristina Seado Vasquez, assistant dean of Student Services for the Loxahatchee Groves campus, said Student Services does a good job with the limited resources it has.
"Our goal here is to provide exemplary service for our students so that they don't have to leave this campus," she said.
The average age of a student at the Loxahatchee Groves campus is 24.
"We have a diverse cross section of ethnicities," Vasquez said. "The majority of our students are coming here to accomplish their associate of arts (AA) degree with the intention to transfer to a four-year college or university. Although many of the students are from right here in this area, they come from all over Palm Beach County."
The campus opened last spring with 770 students and at last count had about 2,200 students.
"Many of the students were not new to Palm Beach State College," she said. "They were actually adding classes to augment the schedule that they already have. We expect new students to start in the fall."
Vasquez noted that the college was not yet fully staffed when it opened but was fully staffed by the last fall semester.
She said the college has hosted several initiatives, such as student counseling at Seminole Ridge High School to do intake advising for high school students who have shown interest in attending Palm Beach State College. The college plans to expand counseling services to Royal Palm Beach, Wellington and Palm Beach Central high schools.
Vasquez has introduced a number of student social activities to help develop a sense of belonging at the campus.
"One of our biggest initiatives is our campus advisory board," she said. "This group of students works very closely with me to promote, implement and create student programs here at the campus. This board will eventually grow and establish itself as our Student Government Association as we expand student leadership opportunities."
Dr. Roy Vargas, dean of academic affairs for the Loxahatchee Groves and Belle Glade campuses, said his staff is shared between the two campuses.
"With more faculty, we could provide more courses," Vargas said, explaining that he has requested six more faculty members in addition to the 17 there. "My strategy is to hire faculty for both campuses, and then we don't have to compete with each other. The college decided to build a fifth campus, and your support is essential to meet the growth and needs of this community."
The Loxahatchee Groves campus offers basic required courses for the AA transfer degree, as well as some college credit certificates in business, economics, information technology and entrepreneurship in response to community needs and requests, as well as many medical courses.
"We are offering an EKG course as well as a real estate course that is very popular and doing very well," Vargas said. "This is the first semester we are offering that course."
The campus is located at 15845 Southern Blvd. For more information, call (561) 790-9000 or visit www.palmbeachstate.edu.