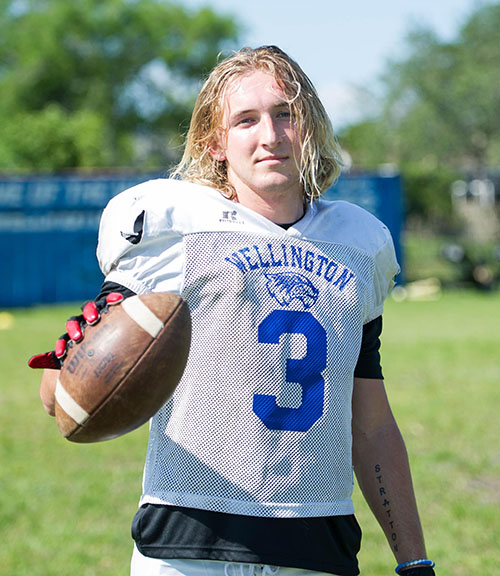 The Wellington High School football team's offense has a new weapon — one that has a world record under his belt.
Receiver Dane Stratton recently entered the Guinness Book of World Records with 45 one-handed football catches in 60 seconds. Stratton's number shattered Pittsburgh Steelers receiver Antonio Brown's 40 receptions.
Stratton broke the record on video earlier in the year, but the Guinness committee must review submissions and recently validated Stratton's accomplishment all the way from London, England, officially granting him the new record on March 26.
There are a set of basic official rules to operate by while attempting to break this particular record: the use of NFL footballs, 10 yards in between the thrower and the receiver, control and catch the ball with only one hand, there must be a certified football referee and only one minute to complete the task.
Early on, New York Giants receiver Odell Beckham held the record with 20, but Brown demolished that number with an underhand style of catching, which meant the footballs had to be thrown slower in a lobbing style traveling down into his hand.
"I knew that pace was everything," Stratton said. "If the passes could come to me harder and faster, I could catch them overhand, and I could beat the record."
Stratton explained that he did not specifically train for the feat, rather studied the tempo previously used and relied mostly on raw skill. "I knew I could catch really well, and I knew I could catch one-handed," he said. "It came pretty natural to me."
Stratton knew he wanted to accomplish this shortly after he saw Brown make his achievement. But what he really wanted to do was use his special skills to contribute to the St. Jude's Children Research Hospital.
"I saw their commercials on television, and they hit me in the heart like a brick," said Stratton, who established a fundraising web site for St. Jude's that reaped numerous donations.
Maybe it was a broken left wrist that inadvertently assisted with his quest to break the one-handed catch record. "I was in a cast during my sophomore year and could only catch with one hand," Stratton explained. "I continued to run routes for months, and my dad threw to me to stay sharp."
To officially break the record, NFL footballs must be used, and that was an issue for Stratton.
"NFL balls are very expensive, so we did not have enough balls to practice the full minute," he explained. "We were on pace to break the record, so I worked and saved and finally bought 35 balls."
With the support of his family, they developed a system where they put the balls into a laundry basket and ran them back to Troy Stratton, Dane's father, who threw them.
The record-breaking moments took place at Skeleton Optics in Wellington, owned by Mark and Lori Llano. Their warehouse provided the space necessary to conduct the event successfully.
Stratton hopes to continue to contribute to St. Jude's through his senior year. "We raised $3,000 for St. Jude's," he said. "It feels great. It feels better than breaking the record itself, really, to be able to use my talents not only to break the record but help people out."
Stratton will be a senior in the fall and hopes to obtain a football scholarship after his final season as a Wolverine.