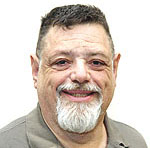 'I' ON CULTURE
I wondered why anyone would do a remake of the old film Overboard. It was not a particularly good film, made mostly to get Goldie Hawn and Kurt Russell in a movie together since they were a couple. Unlike most remakes, however, the new film is very funny and, at times, touching.
Kate (Anna Faris) is a single mother working several jobs to support her family while studying hard for her upcoming nursing license exam, which she had previously failed. Her mother (Swoozie Kurtz), who urged her to move nearby so she could provide child care, decides to run off to join a performing group. And then she is sent to clean carpets aboard a large yacht, which is owned by Leonardo Montenegro (Eugenio Derbez), the overgrown son of a billionaire. He is obnoxious, calls her names, not only fires her but tosses her overboard along with her carpet cleaning equipment, which puts her further in debt.
But Leonardo winds up being tossed overboard and ends up on the beach of Kate's town, with amnesia. Kate's best friend Theresa (Eva Longoria), seeing pictures of the man, suggest a nice revenge: set him up so he works for her for a month so she has more time for study as payback. She follows the suggestion and gets Leonardo, who she convinces is really Leo Sullivan, that he is her husband and father of her three daughters. He winds up working really hard as she adds on to his burdens.
Times goes by, and if you've been going to the movies for a few years, you can guess how there will be a happy ending. Fortunately, there are more than a few fun twists and turns, including some family infighting from Leonardo's Mexican family.
One important difference in the film is its use of diversity. Some of the funniest bits are in Spanish. There are subtitles so everyone can follow along. But this allows for some great conversations. My favorite is when Leonardo/Leo speaks to his new fellow workers at a lunch break at how disappointing marriage seems to him and discovers that it is not all that different from what they're experiencing.
Another thing that made this better than the old movie (which I was able to stream the night before I saw this one) is that Leo actually really changed right from the beginning. Instead of simply moving through his new, not pleasant life, he worked hard to be a good husband and father. That led to some scenes that were not just funny, but really touching. That kind of combination makes for good movies.
The cross-cultural misunderstandings and connections were the source of a lot of laughter. Forced diversity often limits what can be done; when used properly, it provides a wonderful chance for interesting things to happen.
Even better, the cast was excellent. Derbez was great as Leonardo/Leo. He was merely silly and annoying at first, but as he accepted his new role in life, he became extremely likable. His use of physical comedy has almost disappeared in this country. He is bringing it back. It is not surprising that he is a big star in Mexico. Faris was great as his foil. An expert comic actress, she had to play the role straight and did. After all, she was doing something not nice at all, effectively kidnapping him, but she was always sympathetic.
Longoria was very good, but at first seemed a bit too glamorous for the role. But paired with Mel Rodriguez as her big bear of a husband, there was great chemistry. The two were, at times, hysterically funny. Hannah Nordberg, Alyvia Alyn Lind and Payton Lepinski as the daughters were not only charming, but expert enough to separate themselves as individuals. Lepinski at one point provided the most poignant moment of the film.
This is a really good comic film. It comes out right in the middle of blockbuster season but should work its way into everyone's hearts. During years like this, with few comedies, this is a really fun time at the movies. The audience laughed, my Latina wife laughed, and I laughed. So will you.