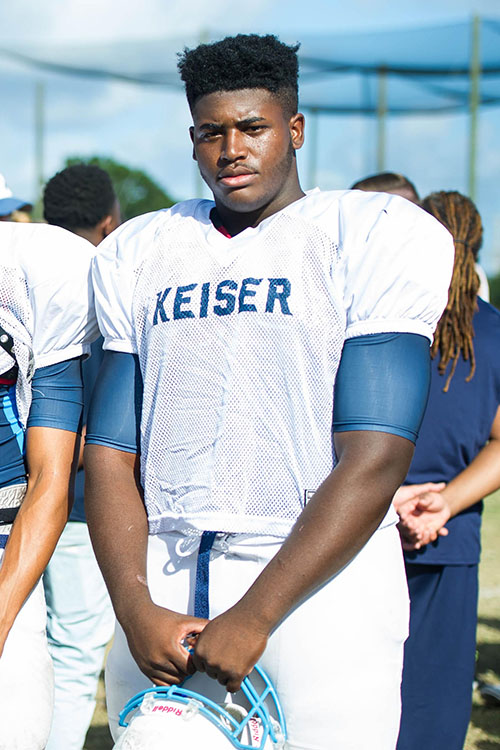 The Keiser University football program had an entire year to prepare for its inaugural season, which gets underway in August, and Wellington High School alum Camron Allen is expected to be a contributor on the Seahawks' defense this fall.
Allen is a 2016 graduate and was a dual-sport athlete for the Wolverines. He wrestled in the 225-pound weight class, helped his team win two district titles, was a two-time regional qualifier and a Disney All-American.
Allen appreciated wrestling but insists that football is his passion. "Wrestling helped instill a different kind of determination that football doesn't have, and rigorous conditioning," he explained. "Training in wrestling made the transition from high school to college ball a little easier."
Allen's work ethic caught the attention of Keiser, and from there his pursuit to play college football snowballed. He helped lead the Wolverines to three district titles, earned all-county and all-conference honors, and played in the prestigious Nokia Hawaii All-Star Bowl.
The 6-foot-1, 270-pound Allen will be the first to tell you that staying focused for an entire year without facing an opponent opposite the line of scrimmage was a challenge.
"I embraced the grind. I knew from day one that it would be hard waking up going to school and practice, knowing there was no game on the weekend," he said. "I took it as a learning experience and used this whole year off as a means to perfect my craft."
Allen also believes that the Seahawks are ready for August because there were several advantages to having a full year of training before the debut season. He explained that the players had the opportunity to catch up with the other schools in the weight room and in size difference.
"Most schools will have 20- to 24-year-olds come next season, and we would be a team of freshmen," Allen said. "We made it a mission to use this year as a growing period."
All of last year's freshmen on the squad remain with four years of playing eligibility.
Allen will see plenty of playing time on defense as nose tackle and defensive tackle, according to Seahawks assistant coach Cody Edwards.
"Cam has progressed tremendously since arriving on campus last summer. He has gotten stronger, faster and more technically sound as a player," Edwards said. "As we approach training camp in August, if Cam continues to stay on his upward trajectory, he should see significant playing time."
Allen feels that the chemistry is primed on the Seahawks squad. "The team definitely looks and feels prepared for our first game," he said. "We've been waiting more than a year to pad up. The year we took off made everyone hungry to play and win."
Allen believes that athletics and academics must be balanced. He currently has a 3.25 GPA and is majoring in criminal justice.
"My schooling means everything to me," he said. "The coaches make it clear that your grades and classes come first, because this is the real world now, and you have to have an education if you want to be successful."
Edwards said that the Seahawks are lucky to have Allen in the program. "He will be a very important member of what we hope to be a very solid and competitive defensive front," he said.
The Seahawks' season opener is on the road Aug. 23 at 7 p.m. against the University of Pikeville.
To follow Allen on the Seahawks defensive unit in the fall and to keep up with the Keiser football program, visit www.kuseahawks.com.