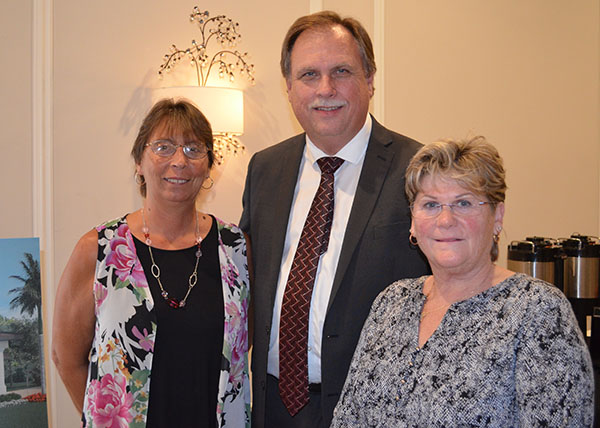 On Thursday, June 14, the Palm Beach Habilitation Center hosted a special event at the Wanderers Club to celebrate the nonprofit's official plans to build a memory care group home in Wellington next year.
For nearly 60 years, the Palm Beach Habilitation Center has provided a helping hand to thousands of disabled individuals throughout Palm Beach County, explained Palm Beach Habilitation Center CEO David Lin.
The Palm Beach Habilitation Center provides resources such as job training, employment opportunities, recreational activities and a social setting for adults living with developmental and physical disabilities.
"We have brought in programs to help individuals of all types of disabilities live life to the fullest within the community that they choose to live in," Lin explained.
In the early 1990s, the Palm Beach Habilitation Center initiated its Seniors in Transition And Retirement Services (STARS) program, through which they were able to help seniors with disabilities from having to prematurely go into nursing homes or assisted-living facilities. The STARS program has provided the proper nutrition, exercise and community involvement that many disabled adults lack.
"The idea is to provide resources and activities for residents to remain as active and engaged in their communities as possible," Lin said.
In other words, the simple mission of the Palm Beach Habilitation Center is to give disabled adults the room to create and preserve their autonomy and self-sufficiency for as long as possible.
Through their already existing programs, the Palm Beach Habilitation Center identified a need to build a unique living environment for some of the disabled adults who have thrived in the center's environment, but who are also aging out of the available space. That is where the memory care group home in Wellington comes in, as it will provide six disabled individuals with a permanent home.
"We have residents in some of our other group homes who are aging out of the available group homes," Lin said, explaining that the idea is that they will be able to live at the memory care group home with additional support until their medical needs become severe enough that they have to go into a specialized medical facility.
Planned for a site in the Little Ranches neighborhood, the Wellington memory care group home will serve adults who live with developmental disabilities along with age limitations, such as Alzheimer's disease or dementia.
The Palm Beach Habilitation Center decided to pursue this idea as it became more evident that developmentally disabled individuals who are also suffering from age limitations have very few options in the standard healthcare world. The nonprofit's goal is to give these individuals a place that will specifically target their needs.
"People with disabilities are now living longer," Lin said. "We are now seeing that some of our older adults are also experiencing Alzheimer's and dementia, especially folks with Down syndrome. The memory care group home is a relatively unique concept. There are maybe only two other programs in the State of Florida dealing with this issue. It will be their home. Each person will have their own suite, which is important to us, because we want individuals to have their own space where they can relax and enjoy quiet time. And we will support them by providing the additional care that they need for as long as we can."
The home is to be built targeting the unique necessities of the future residents in its structure and design. Each private suite will include a bedroom, a bathroom and a walk-in closet. The house will also include a sunroom for the residents to enjoy Wellington's scenery.
Lin and the nonprofit's staff hope to make the memory care group home as much of a real home as possible. Because many of the Palm Beach Habilitation Center's values lie within getting disabled individuals involved in their community as much as possible, the staff hopes that the members of the group home will become new neighbors to the Wellington community.
"We don't want any big signs saying that it will be a group home; we want to be just another neighbor. We want to be involved in the community," Lin said. "This is something that we talked about for a long time."
The Palm Beach Habilitation Center plans to build its memory care group home over the next year. The goal is to break ground sometime early in 2019 in order to complete construction by the end of 2019. For more information, visit www.pbhab.org.